Community Outreach & Wellbeing
Community Outreach & Wellbeing
We offer free artist or curator-led guided tours tailored to specific community group needs and interests. At Fresh Air Sculpture we take great care to understand and respond to the individual requirements of your group and we encourage you to discuss any concerns or sensitivities we should be aware of before a visit to the exhibition. Our guided tours aim be inclusive, accessible, sensitive, inspirational and fun. We aim to support groups who work to improve physical, emotional and mental Wellbeing within the community.
We collaborate with groups who work with adults and young people suffering from anxiety, depression, isolation within the community, mental health issues, addiction and other long-term illnesses. We support the work of fantastic organisations such as Artlift, the Nelson Trust, Root and Branch, Bridewell Organic Gardens, Working for Wellbeing (W4W Fairford) and Churn Community Projects. We are grateful for the generous grants and donations we receive that support our mission to widen access to the arts, especially sculpture.
If you would like to discuss a visit, would like more information or to arrange a tour please contact
Ana Bianchi: ana@freshairsculpture.com
Self-led groups are also welcome but must be booked in advance by contacting Ana Bianchi as above.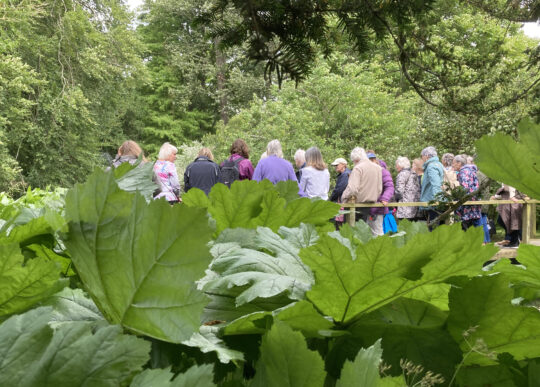 Feedback from 2022
'Thank you so much for hosting us on Saturday I was inundated with such positive feedback from everyone who attended and thoroughly enjoyed the day out. Thank you so much for being so inclusive and making them have the best day.'  ~ Mary Ann Dodds – Working for Wellbeing, Fairford

'Thank you so much for organising another incredible day at FreshAir. The welcome was, as ever, so warm and inviting. Special thanks to Barbara who really inspired and motivated the group. Barbara made the clients feel so at ease and enabled them to get in touch with their, often buried, playful side. Her approach  taught us  that we can all be sculptors. It was a really joyful day!'  ~ Beanie Cook – The Nelson Trust

'The day ran very smoothly with wonderful weather. We were greeted by Ana who gave us all a programme and a very informative and accessible curated introduction to selected works in the exhibition. Participants were very engaged and felt comfortable to ask questions. We were allocated a reserved table which although may not feel like a huge thing to many, in reality, it made my group feel that their needs had been considered, one participant voiced that she felt like a VIP.'  ~ Karen Hilliard – Artlift Bourton

'I wanted to say a huge thank you for making it possible for us to visit Quenington. Everyone thoroughly enjoyed the visit. One gardener with sensory overload has autism but it is incredible that he still feels that he wouldn't have missed it for the world, he is not prone to hyperbole.'  ~ Rosie Wheeler – Root and Branch