A little over a month until the show opens and I'm getting more and more excited with every day! So to keep us happy until the show starts, a sneak peek at some of this years pieces.
First a glass and textile piece from Carole Waller called 'Station'. Her piece is made of laminated silk viscose, which is painted on by herself, inside toughened glass. In March at the catalogue photo shoot I met Carole as she arrived to instal her piece with her husband. Carole's work can be found in collections such as the Victoria and Albert Museum and she exhibits all over the world. She has a studio and gallery outside Bath. It was a bitterly cold, snowy day when Carole arrived to instal her work, and I helped (as much as a small nineteen year old girl can help instal large sculptures) them to dig the holes, put in the glass pieces on their steel plinths and fill the holes in so that the sculptures sat beautifully in the lawn. I got to talk to Carole a bit more throughout the day and she told me how she would sit in the station watching the people rush past and wait for their trains, and that's where she got her inspiration. The golden yellow band across the middle of the piece has evolved from the idea of lights from shops and restaurants reflected in the floor of the station. I personally love this piece and loved looking up close at the silk in between the glass. I'm interested to see how the different light throughout the day effects the colours in the piece and how the piece looks in a Summer garden.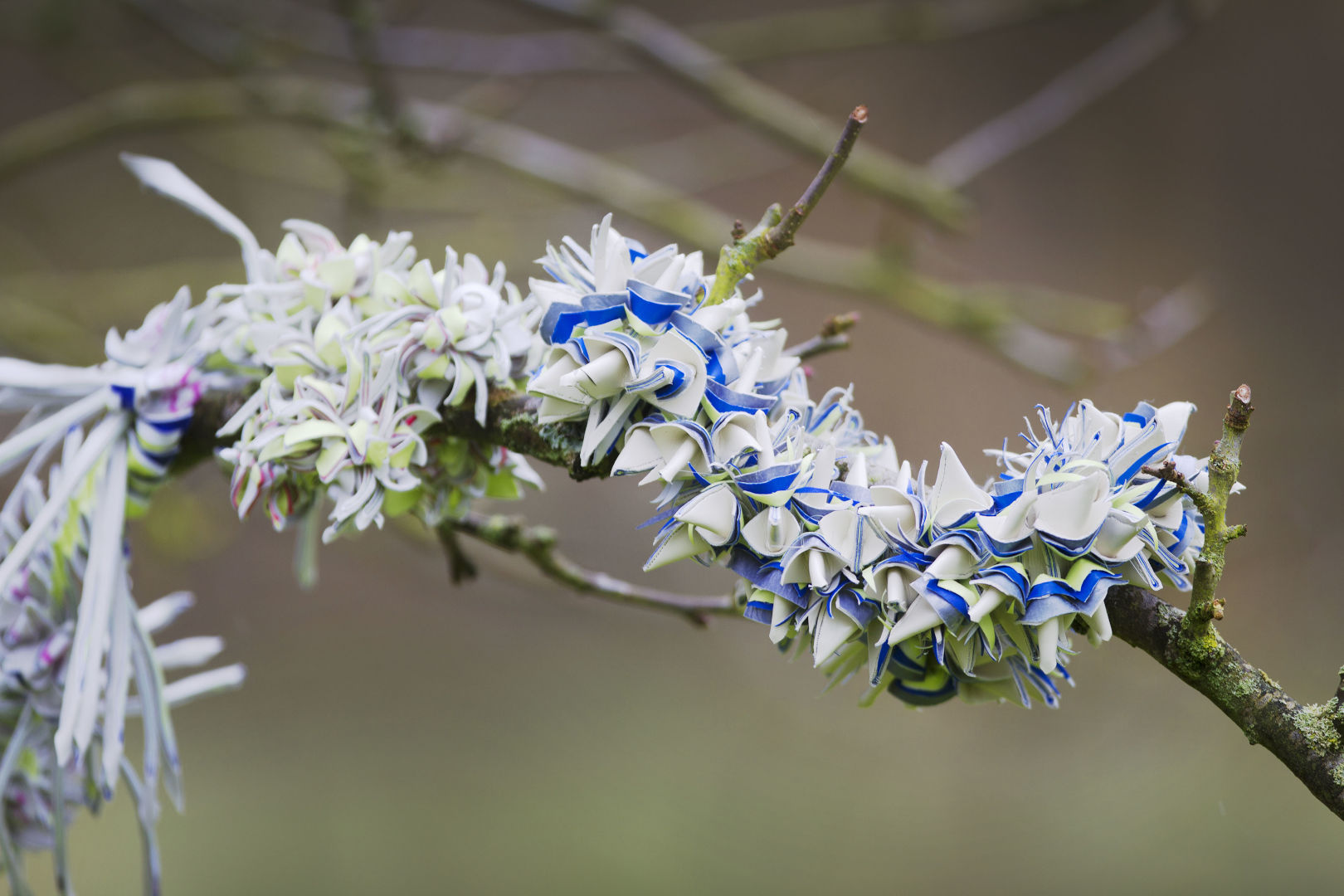 The next piece is by Jennifer Norris. Jennifer Norris is a Gloucester-based Textile Artist who works with leather and fabrics to create unique, stitched architectural sculptures. Since graduating from Chelsea College of Art, Jennifer has exhibited her instillations in Galleries across the UK, including her solo show, 'Suture'. Sculptures have recently been selected by stylists for fashion shoots. When Jennifer arrived she had a box full of her creations, and they all looked fantastic. I loved how colourful and sculptural they were. I did Textiles Art as an A Level and I always love to see how other people interpret their surroundings to create pieces, as a did a few projects based on the architecture of various cities around the world. On her website Jennifer describes her work saying it "reflects the qualities that are represented in today's urban landscapes, through the friction of architectural surroundings and natures constant presence". I think that some of her pieces look almost skeletal, or like beautiful insects and flowers. They certainly look fun draped on the trees around the show. She is showcasing three pieces at the show, 'Cenozoic', 'Spinoza' and 'Bozoa'.
Hopefully you'll be able to attend the show this Summer and see these Sculptures, and many more, in person. Stay tuned for more posts on what will be showcased this Summer.