Sneak Peek – The more unusual large collections
So yesterday we had a sneak peak at two sculptures that incorporated Textiles into their designs. Today we're looking at two of the more unusual, bright, striking sculptures which come in large collections.
First up is Natalia Dias with 'Thorn Tree' one of two pieces she is showcasing at the show this year. It has to be said that this piece is incredibly eye-catching, and I'm sure that during the Summer, when the show opens, the white thorns will stand out brilliantly against the bright green of the garden's foliage. The piece consists of 500 individual thorns, which are adorning a tree in the Abel-Smith's garden. Natalia is an award-winning artist expressing the human condition through the medium of clay. Bridging Craft and Fine Art she conveys her narrative vision through installations and sculptures.  In 2010, Natalia was the first recent graduate to ever win the Gold Medal for Craft and Design at the National Eisteddfod of Wales and had her first solo show straight after that. Her work has been exhibited and published extensively in Britain and abroad, and in 2007 she was awarded 1st prize in Ceramic & Glass at the Welcome Trust "Design4Science" competition. Her work is in many private and public collections including Aberystwyth University's Ceramic Collection and most recently the National Museum of Wales' collection. If I wasn't a poor student I'd be whipping these up for my garden in no time, maybe one day I'll be lucky enough to have something as gorgeous as this!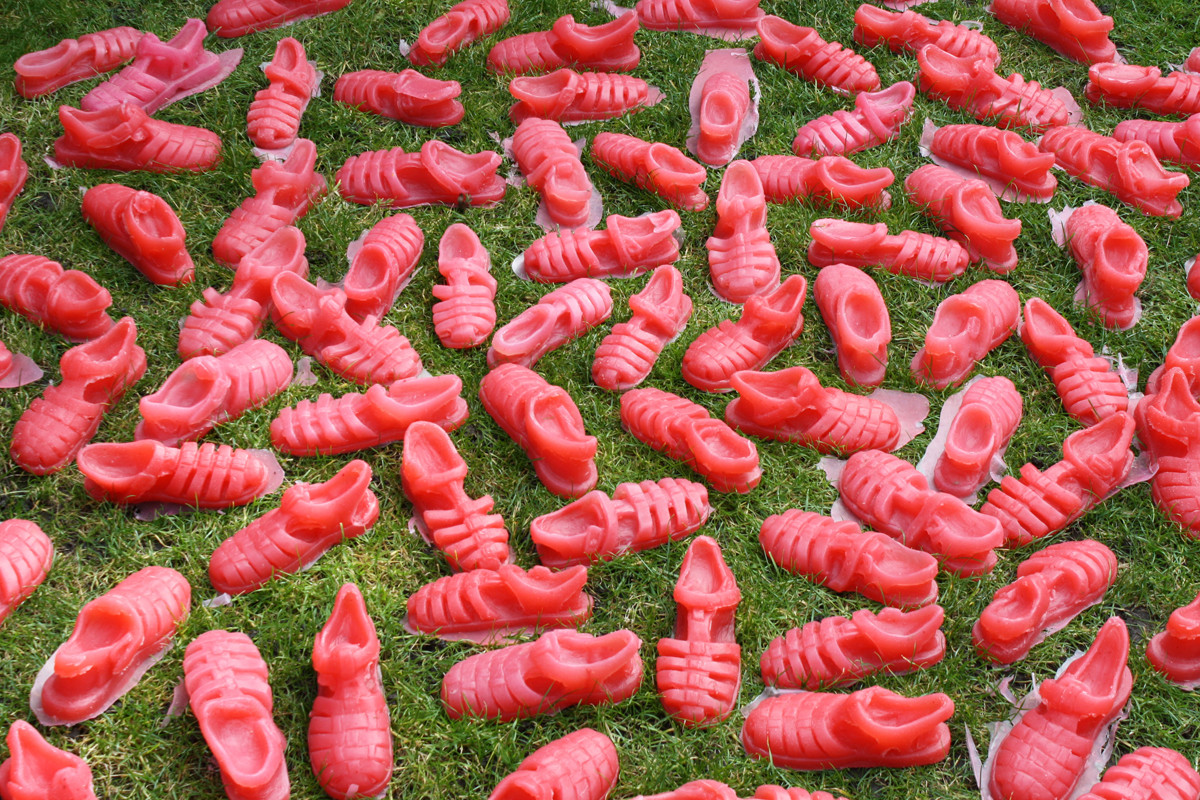 And secondly we have Tom Hackett with 'Once is an accident, twice is a revolution', a brightly coloured collection of 1000 cast jelly shoe forms poured in pink silicone rubber from 3D observational studies of 20 found children's jellies.  As a child of the 90's I definitely owned at least one pair of Jelly Shoes when I was younger, and I find this piece fascinating. I love that there are people around the world that see things, and these things inspire them to create pieces like this. I think it's amazing to see what people are inspired by and I love seeing unusual sculptures that make me really think about where the ideas came from, and what the sculpture means to me. I'd love to one day do a study on how different people interpret pieces like this and what thoughts it evokes in different people's minds – from the young to the old. My own personal view is that initially I think 'Wow this is a fun piece' but after considering the piece for longer I am reminded of the aftermath of Chernobyl, where items were just abandoned including shoes – like this image here.  That is my own personal view, a little sinister, but a powerful idea. I think that's a great thing about visiting exhibitions of art work, is that you can have your own personal ideas on what the art means to you, and the Fresh Air show showcases so many thought provoking pieces. Tom has exhibited extensively across the UK and internationally. His key solo shows include; Firstsite Colchester, MAC Birmingham, UH Galleries, Aberdeen Art Gallery, PM Gallery London, CHAPTER, Cardiff, Northampton Art Gallery and BAC London. Once is an accident, twice is a revolution was project funded by Arts Council England
I hope you've found these sculptures inspiring, and hope that you'll join us in the Summer to be able to experience the sculptures first hand.