Sneak Peek – Colorful Florals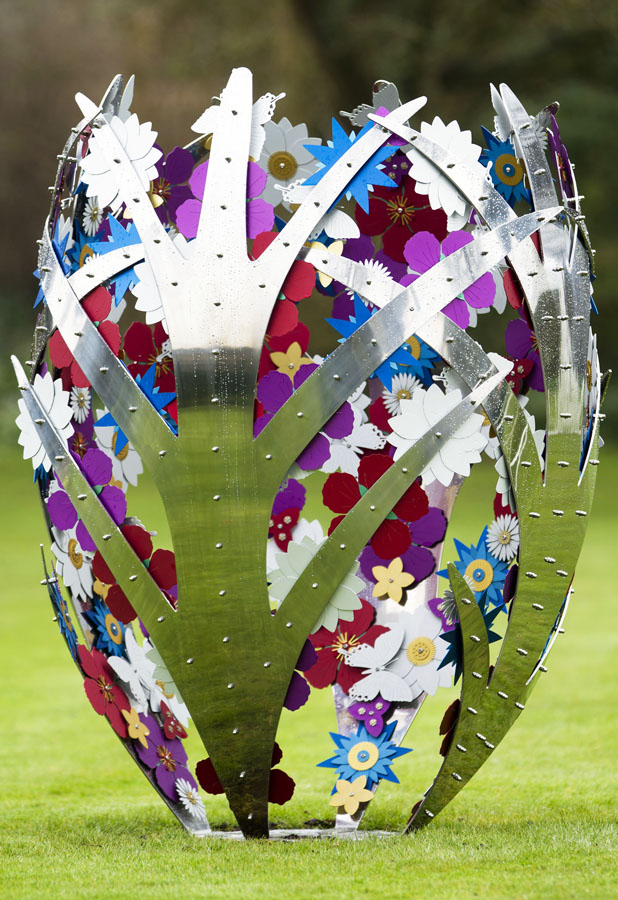 Today's sneak peek is on some of the more colorful sculptures inspired by the plant kingdom!
First up we have 'Bud' by Ruth Moilliet. I really like this rather flamboyant sculpture. From the photo you can see the reflection of the grass and the garden landscape in the reflective parts of the sculpture that make up most of the structure, I think this is rather clever as Moilliet hasn't used any green in her piece, but instead the reflective metal adds that green element, and I guess will look beautiful in the bright, fluorescent green of the summer garden. I love that the flowers and butterflies that cover the petal like reflective metal are facing inwards, emphasising the idea of the 'Bud' and truly giving the impression that the sculpture will, at some point, unfurl like a magnificent flower. I love the use of such vibrant colours and I really think this piece will draw in visitors this Summer.  Ruth produces highly finished metal and glass sculptures inspired by the plant kingdom. She studied at Manchester University gaining a BA in Fine Art in 2000 and an MA in Art as Environment in 2002. She has artworks in various private and corporate collections and clients include Urban Splash, Four Seasons Hotel in Hong Kong, Hapag Lloyd Cruises, Carillion, the NHS and the BBC.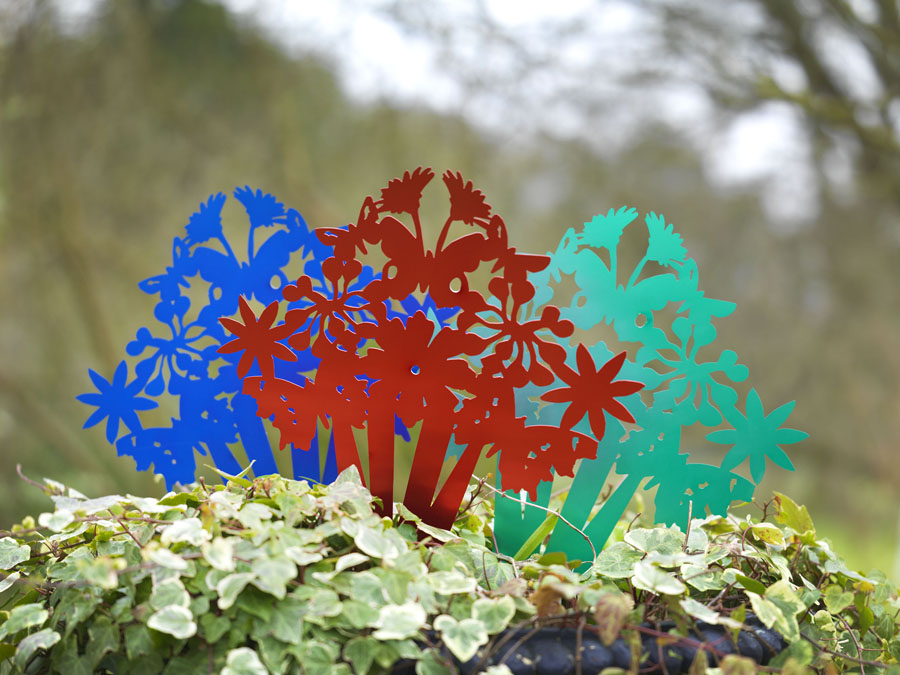 And then we have 'Damask' by Caroline Parrott. Again a rather beautiful, brightly coloured, floral piece. This design is laser-cut and made out of anodised aluminium. I love that, like 'Bud' above, the piece incorporates butterflies as well as the floral designs. The symmetry is pretty and I really like the bold choice of colours, that almost clash when put together. I also like how they are positioned in this picture, as if they are real flowers bursting out of a pot or hedgerow. Caroline specialises in the use of anodised aluminum, which she hand prints and dyes to create a variety of interior and exterior accents.  Based in Dorset, its flora and insects constantly inspires what she produces. Recent outdoor installations include laser-cut hanging pieces for the garden of a Children's Hospice and a giant swarm of butterflies adorning the fence of a country park based on the Jurassic Coast. These sculptures at 31cm by 44cm are perhaps a more appropriate sculpture for those with a smaller garden, and at a price that's brilliant too! So if you fancy one of these beautiful sculptures springing from your lawn, and bringing a welcomed burst of colour to your garden all year round, pop along to the show this Summer.