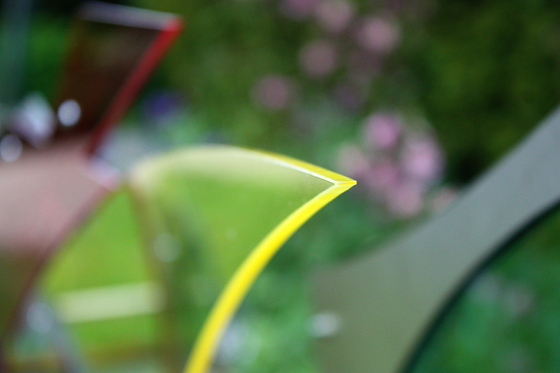 Marie Ackers
Unfortunately we are skipping to Day 8 seeing as a nasty cough kept me away from the show throughout Day 6 & 7. However it's been as busy as ever and it was nice to return to see some new pieces up! The gardens have enjoyed a slight watering from the ominous British clouds, but the grey day is interrupted by the vast amount of colour that has entered the garden in forms of sculptures and flowers alike!
The 'sea' of red jelly shoe casts by Tom Hackett really makes a statement on the main lawn as does Marie Ackers' brightly coloured acrylic perspex piece at the entrance to the main lawn.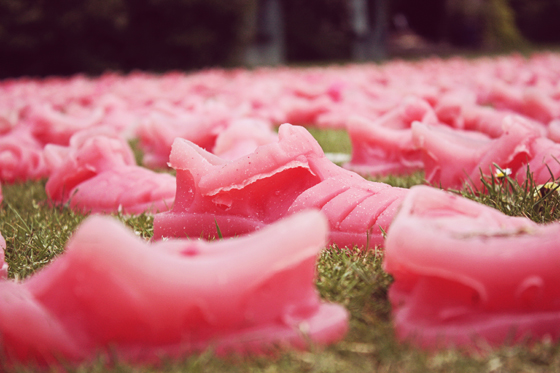 I'm glad to see Adam Binder's Swan in place looking regal with a slightly evil look in his eye … Ana and I disturbed a rather territorial swan earlier today, and were greeted with lots of hissing, this sculpture seems to be on the same page as the resident swans.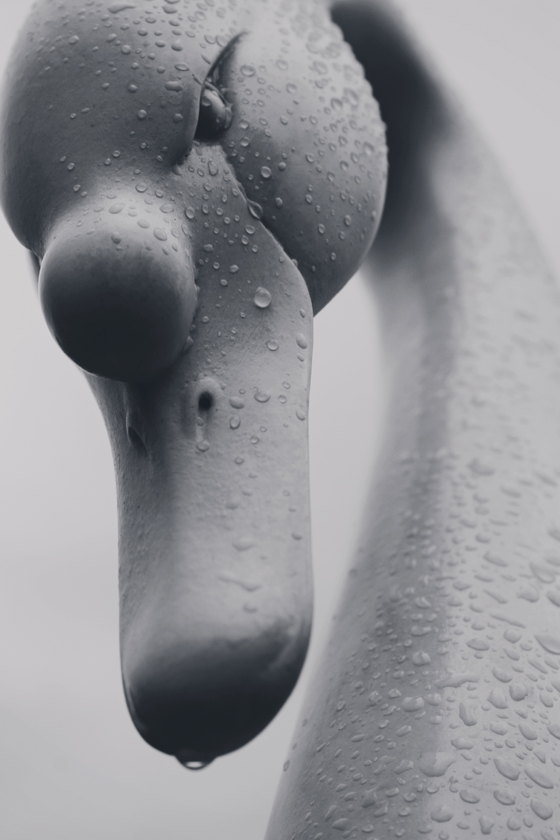 Eliza had done a few coats of paint on the walls of the stone house on the main lawn, but my first job of the day was to give it a final coat. I managed to cover myself in paint even whilst wearing overalls, but the sculpture is now on the wall looking fantastic against the scarlet paint.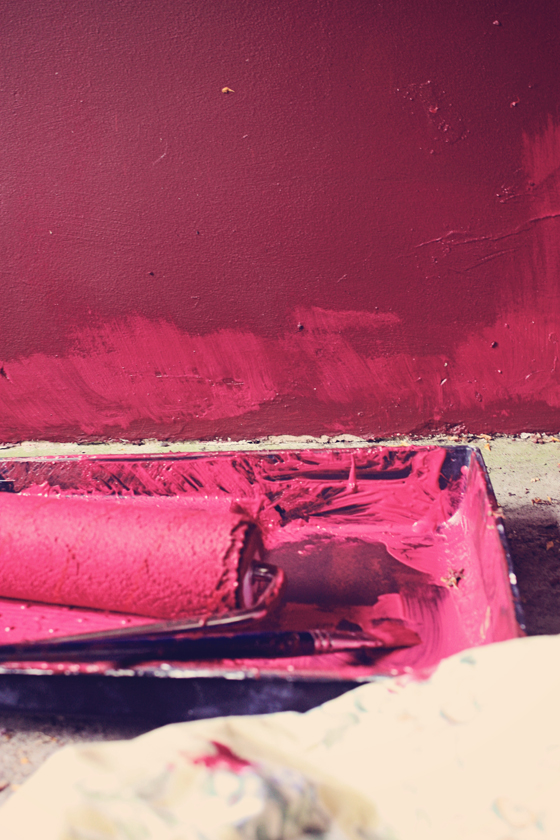 Dorcas Casey installed last week, and bought this handsome stag with her. She was a lovely and one of the many artists I have enjoyed meeting and having a chat with!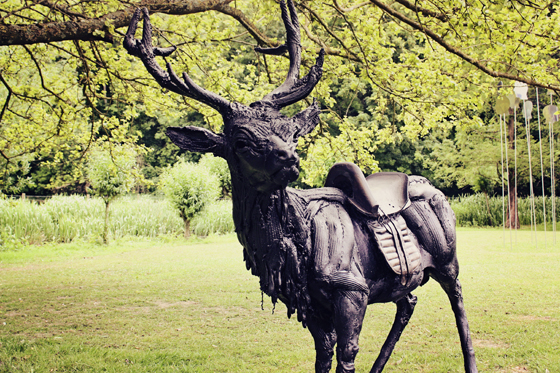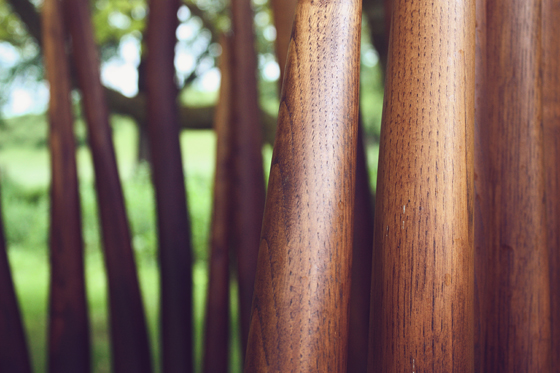 Philip Koomen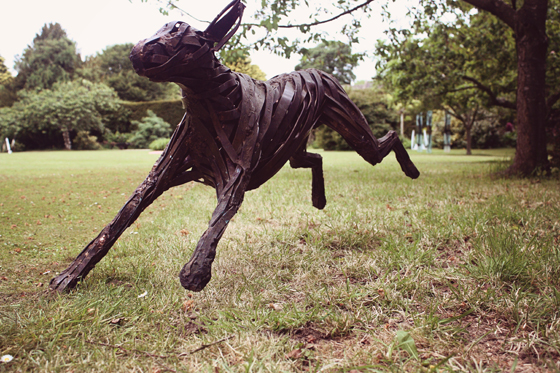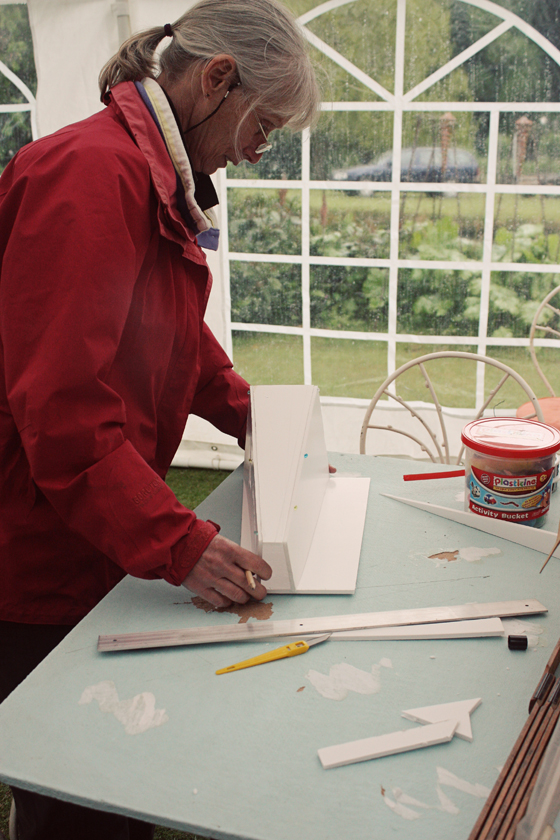 Teachers from schools that are participating in the education programme came for the day. Rob Olins got them making 3D forms, and they had a tour round the garden and an introduction talk from Miranda. I'm looking forward to seeing how the children from these schools get involved at the show.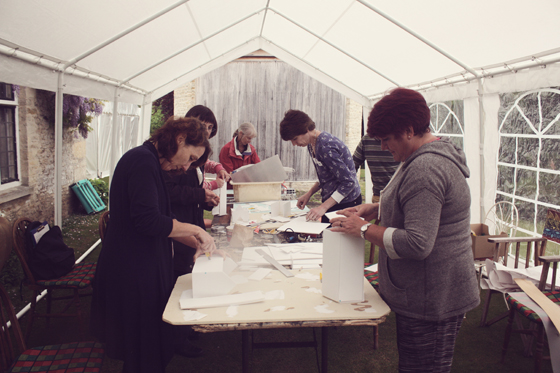 I bit of a grey, drizzly day, but the show must go on! Tomorrow is the final installation day so I expect there may be a last minute influx of artists. Then we have Friday to complete final preparations and make sure everything is perfect for the private viewing and opening at the weekend! It's all very exciting, though you never quite imagine how many little things that have to be remembered or completed to make events like this go ahead. Wish us luck as we get through the final days of installation and see you all soon!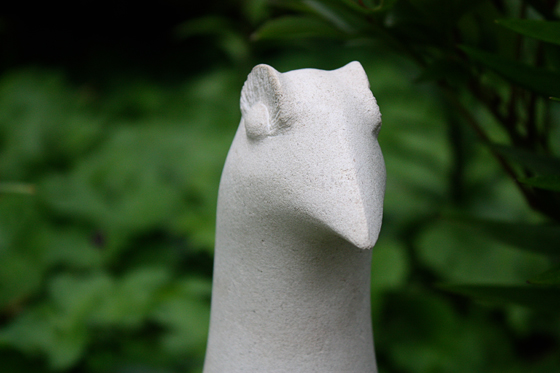 Oliver Meller