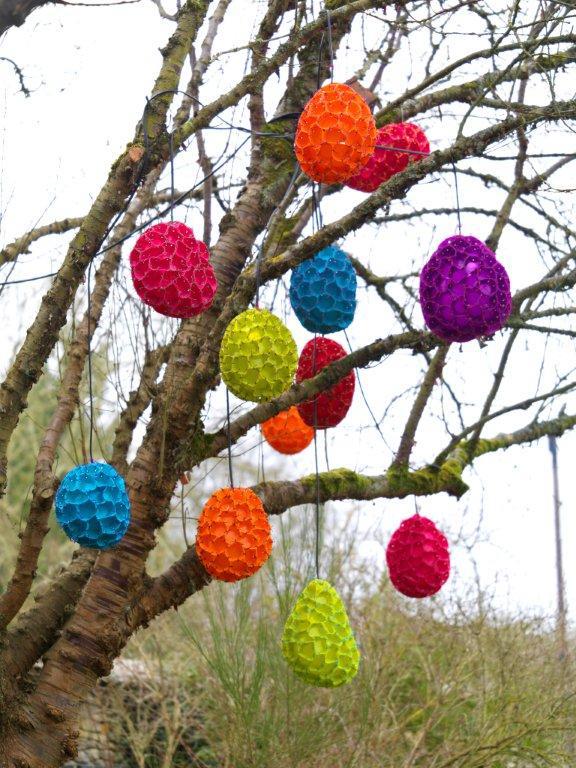 Today's post comes with a lack of photos … the last two days have been so busy that I've been unable to stop to take any photos at all. Though to make up for it I'm going to be taking lots of photos at the private viewing tomorrow afternoon. Today has consisted of setting out all the slate numbers for the sculptures so that they can be identified in the catalogs and on the maps. Ana and I thought this would be a quick, fairly simple job whipping around the garden allocating numbers, but it took 3 hours in the end, after we avoided territorial swans and had to take our wheelbarrow of numbers and tools around the road way as it was too heavy to lug over the bridges. We did however complete the job, just in time for lunch, which was a delicious Lasange and soup by Sandy, as well as the usual amazing selection of salads.
Eliza and I ended up having to take off the plastic bags protecting Taz Lovejoy's 'Cupcake Lanterns' … after several different ladder angles Eliza ended up in the tree, while a rather worried Lucy looked on. But no bones were broken, and Taz's piece is now a welcoming splash of colour as you enter the Pool garden.
I also enjoyed setting up the ECCO children's shop, which is in the back of the Gate information/entrance tent. I've spent the last two weeks cataloging all the maquettes, sketches and models that the artists have given us, and wrapping any drawings up nicely for the shop. Today I finally got to put the tent together, and set out all the pieces on display. All the pieces look fantastic and I keep wishing I was under 18! So if you're bringing children to the show please stop buy and be generous with pocket money as there are so amazing keepsakes at brilliant prices just for kids!
I've managed to rope my dad into helping me do the quick checks of the sculptures tomorrow morning before the opening lunch and then the private viewing evening! I'm just looking forward to wearing smart clothes, as I'm sure everyone at the sculpture show thinks I live in old, tatty, gardening clothes!