Rory Young for Fresh Air Sculpture 2022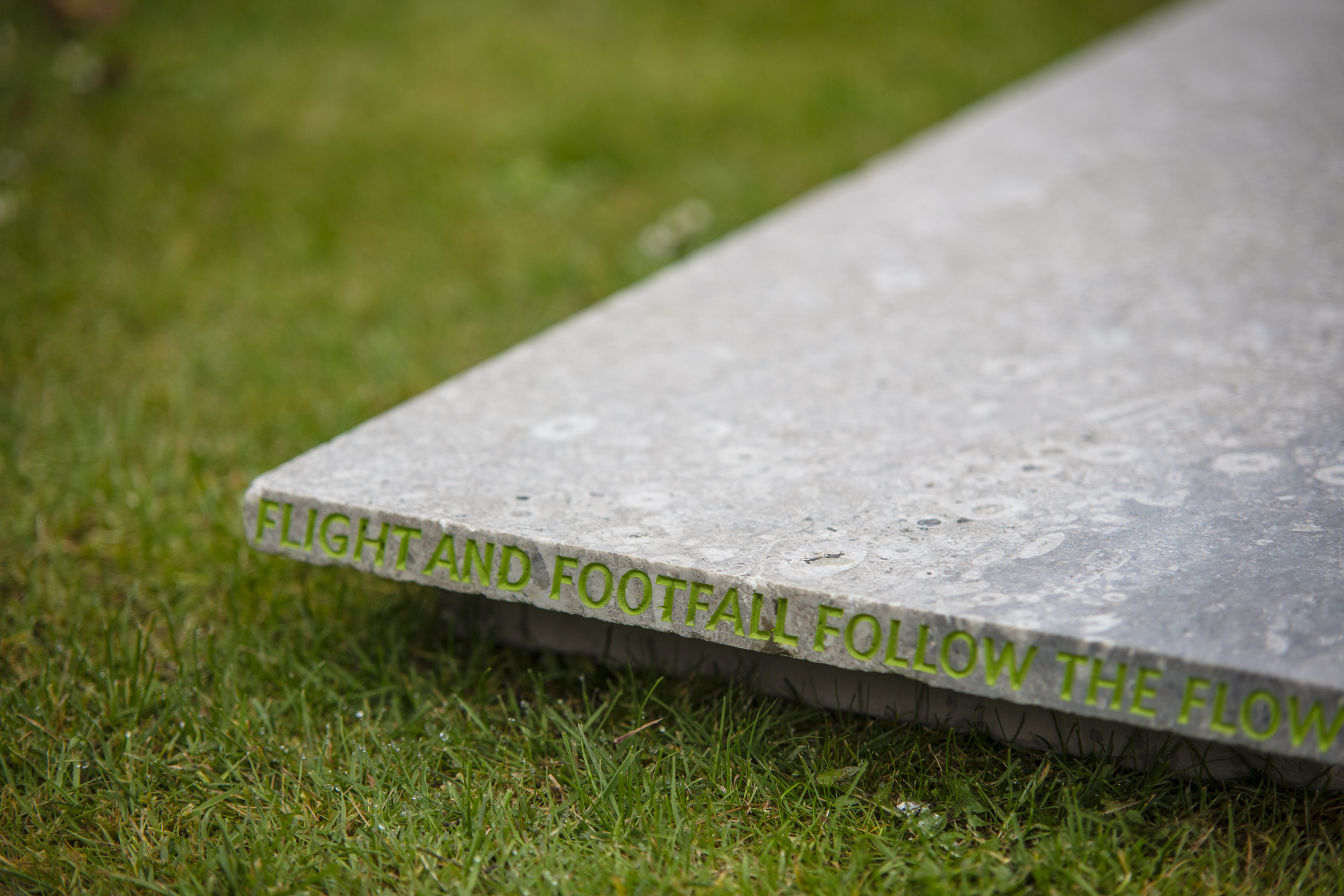 Rory Young designs and carves works of art in stone.  His work is traditional and pays respect to the appropriate style. Carvings are designed to honour a building, or place, by enhancing its existing qualities, and adding to its cultural significance.
Rory is showing three pieces of work at Fresh Air Sculpture 2022. Here he shares what each piece means.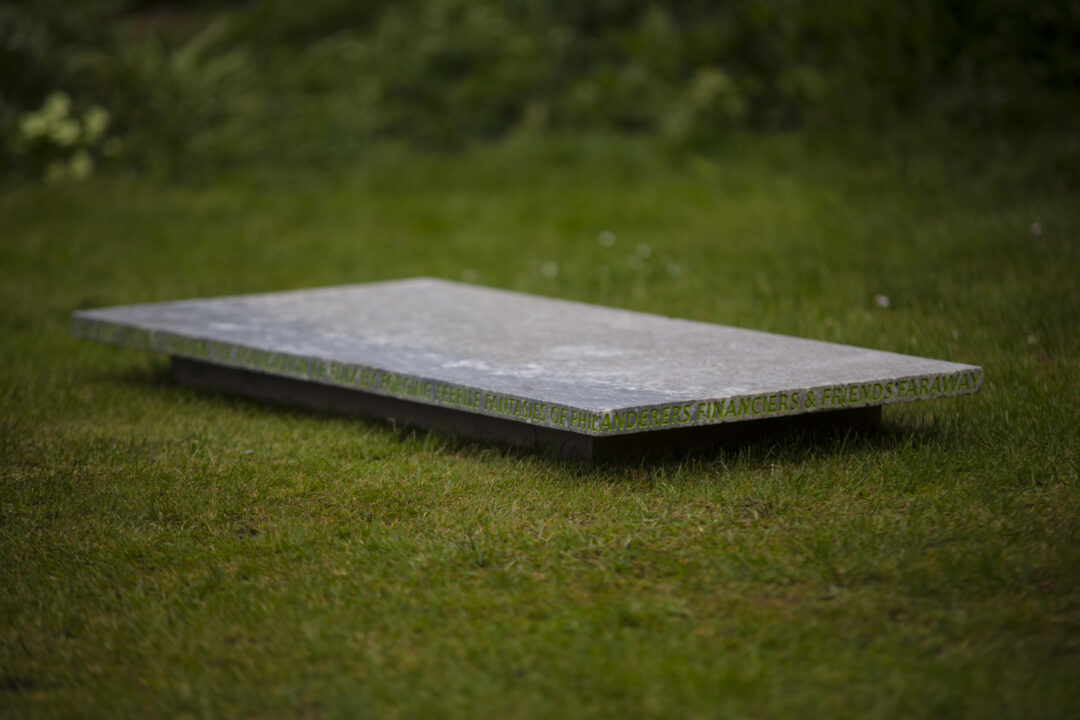 Flight and Footfall
A nod to the inspiring phenomenon of mass air travel – alliteration inscription around a piece of fossil-rich marble which paved the floor of the Europa Building, Heathrow, Terminal 1.
The inscribed floor slab celebrates aviation history, the memory of the iconic Europa Building at Heathrow and utilization of British geology.  These themes are crystallized in a frieze of 'concrete poetry' whose letterform and colour are redolent of the heyday of commercial air travel.  The alliterative text provides cultural significance for this relic.
The stone and fossils are from the Carboniferous period (298-358 Million years ago) and coincidentally from 1955 to 2005, it is estimated 314 Million pairs of feet would have walked across this floor!  The wear on the surface is equal to that of an ancient cathedral floor.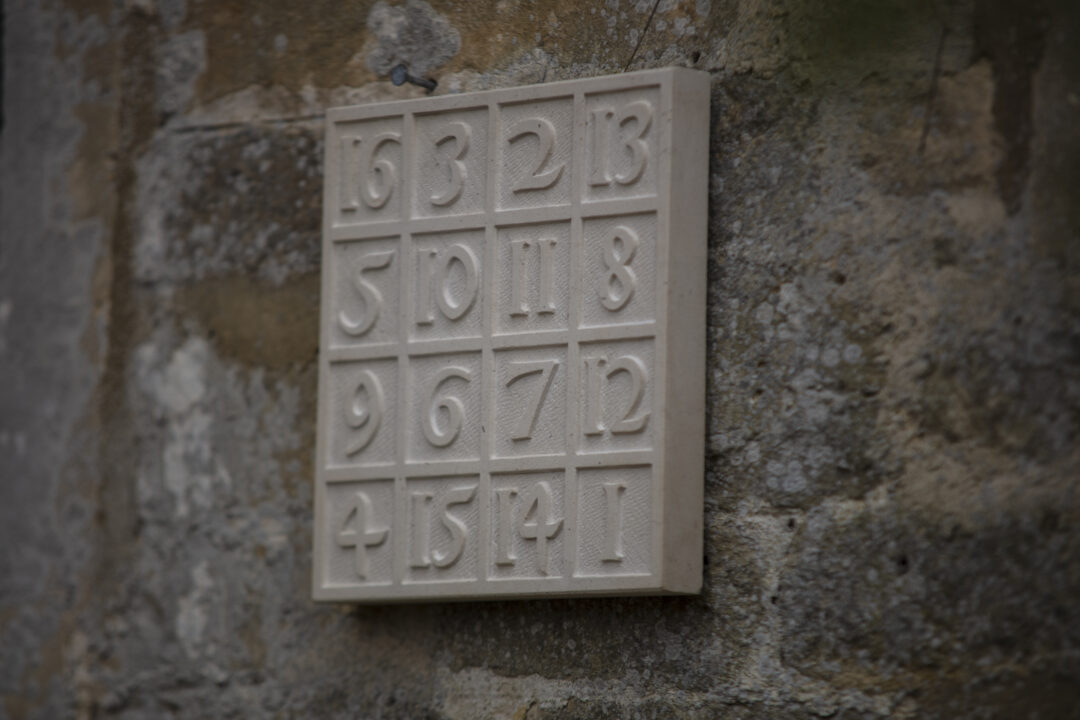 Durer's Magic Square
Numeric figures in grid raised off a background, tooled in imitation of Durer's diagonal hatching by 'chisel rocking'. A recreation of the number square featured in 'Melancolia I', an engraving by Albrecht Durer.
Rory was inspired to create the magic number square seen behind the despairing angel in Durer's famous engraving 'Melancholia I'. This is one of the most well-known old master prints intriguingly resisting a definitive interpretation.
The square follows the traditional rules of magic squares: each of its rows, columns, and diagonals adds to the same number, 34. The corners and each quadrant sum to 34 – in fact you can find eighteen ways to make 34!
Any number added to its symmetric opposite equals 17.
The two middle cells of the bottom row give the date of the engraving, 1514, the year Durer's mother died.
There Must be a Bygynnyng
A deeply carved quote from a letter from Sir Francis Drake to Sir Francis Walsingham in 1587 all about the importance of completing the job!
Rory heard this powerful message read solemnly at school services at least once a term! It was adapted as a prayer in the early 20th Century but the original text referred to quashing the Spanish Armada.
As a perfectionist and thorough in all his endeavours, its Elizabethan spelling elegantly justifies the total commitment required to create anything worthwhile, and became Rory's mantra during a five year project to carve seven statues for St Albans Cathedral.
It was also appropriate through the Covid pandemic, as we took precautions to contain the virus and the quote could help pull us through myriad difficult times.