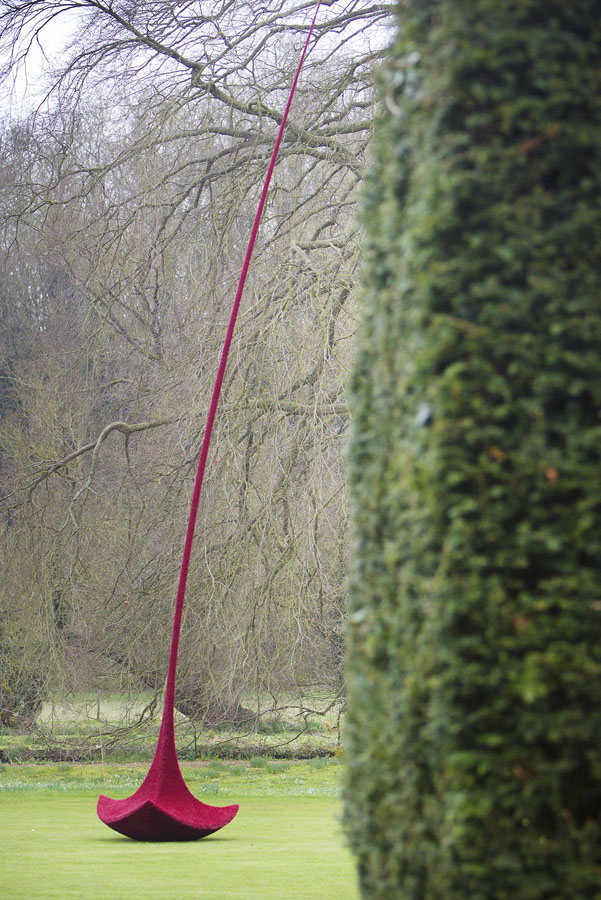 Today we're having a quick singular sneak peak, as I have to rush off to a University exam soon (wish me luck!) This piece probably needs a whole category of it's own anyway!
Here we have 'God Rod' by Lucy Strachan.  Born in 1957, Lucy studied at Brighton College of Art 1978-81 and then the Royal College of Art, London 1981-84. She has work in public and private collections in the UK and USA. Exhibitions include the ICA , the Serpentine Gallery, Camden Arts Centre and the Crafts Council in London , and Roche Court and the Bowes Museum.  In America she has exhibited in the International Centre of Photography and Bernard College, NY. This was one one of the first pieces I saw when I arrived at the March photo shoot. Looking out of the Abel-Smith's kitchen window into the snowy scene, and there it was, you couldn't miss it – deep red and 11 metres tall. It sways ominously in the wind, and really has that presence that gives it its name 'God Rod'. The sculpture is made out of fibre glass, carbon fibre, kevlar and steel, and reaches up into the sky from the lawn of the Abel-Smith's garden. It's striking and I love it. I love the roundness of the base and how precariously long the spike that comes from this base is! Whilst writing this post I've kept scrolling up to look at it, and you keep scrolling and scrolling until you finally reach the top of the sculpture. This is one of the pieces which I would of been drawn to when I visited the show when I was younger … I think this is because as a child you don't ever think of sculptures being made out of certain materials and made into certain shapes, and this is a piece that leaves people in awe, young or old.
We hope you can pop down to the show this Summer to experience this magnificent piece in person.