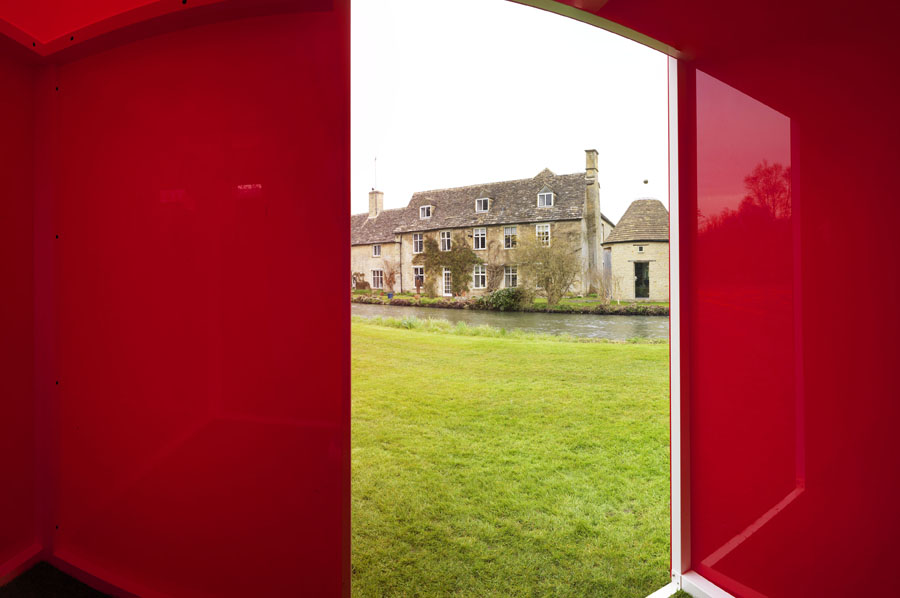 So today the sneak peek is looking at two very different sculptures that share the characteristic of being a cube.
Firstly we have 'The Red Place' by Alison Thistlethwaite. A powder-coated steel frame with acrylic panels forming a 200cm x 2oocm cube. A box that throws you into a world of red, and one of the sculptures that you can't ever take a photo of that does it justice. From the photo however you can see how the reflections of the outside world squeeze into the box through the opening, and give a bright red parallel world, encapsulated in the cube. In Alison's bio she says 'The red cube should be experienced as a place to contemplate or meditate, being at the same time a part of,  yet separate from,  the outside world.' This really shows how Alison has tried to partition of a section of the world that is peaceful and allows the observer to enjoy a moments thought. The red is perhaps an odd colour to partner with the idea of meditation, maybe cool blue or a pale green would of conveyed a greater sense of calm and relaxation? But I think that the red makes you think more, it definitely transforms the outside world into something very different.  Alison paints and sculpts on spiritual themes. This has taken her recently to exhibiting in three cathedrals, Bradford, Worcester and York Minster, where her paintings occupied the whole nave. Her artistic education has been in art (St Albans School of Art) and music (Anglia Ruskin, Cambridge, and London Guildhall). She paints vibrant and colourful abstracts that reflect a sense of the Holy Spirit, with both personal and universal themes.
Come and visit this sculpture for yourself this June and July, and see what you experience whilst inside The Red Place. I'd be interested to see what visitors thought about it, and other sculptures, so if you do visit the show and want to share your thoughts on the sculptures you see this Summer please don't hesitate to fill in the online form located on the 'Comments/Reviews' page ( the button is to the right of this post)! Or click here.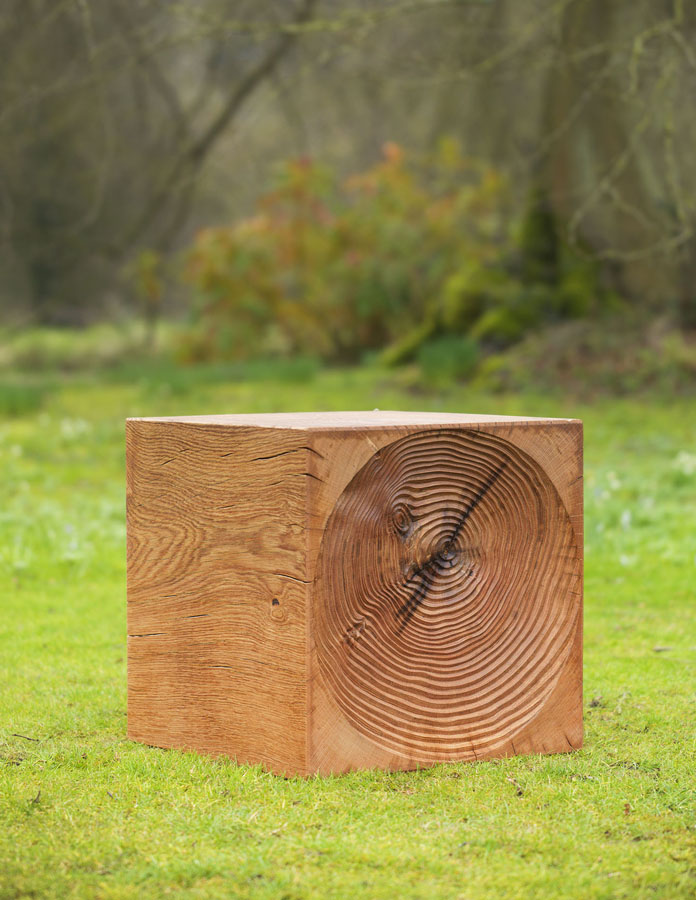 So not only do these two pieces have their shape in common but their artist's also share the same first name! This is Alison Crowther's piece which is called 'Carved Cube'. This piece is made out of Unseasoned English Oak and looks to me as if it could be utilized in a garden as a rather beautiful seat not just a beautiful sculpture. This again is a piece, like the bird bath featured a few days ago on another 'Sneak Peek', that would fit effortlessly into a garden. The gorgeous wood really shows how after a tree, which is beautiful in it's own right, has been felled it can turn into something, perhaps, even more beautiful. I love how Alison has carved into the cube the rings of the tree, showing how nature provides it's own patterns, and with the help of Alison and her carving has really produced an amazing piece. The geometric shape of the cube contrasts with the wavy, concentric circles of the tree rings, and I love how it appears that someone has merely chopped a perfect chunk out of a tree and hey presto, this fascinating piece. I really love sculptures like this that interact so well with the natural world, it reminds me of the huge cross section of a Giant Sequoia tree in the Natural History Museum in London, where the rings are marked to show the age of the tree. I think this piece would look lovely in a collection of different sized cubes, maybe a collection of three, each depicting a different age of tree.  Alison studied furniture design at London's Royal College of Art. She has exhibited widely since 1992 and has received substantial commissions from Winchester Cathedral, the Cass Foundation, Swire Properties in Hong Kong and from Private clients throughout Europe and the USA.  Most recent work has been completed in Guangzhou and Beijing, China and for the Rothschild Foundation in the UK.
So two very different pieces, one encapsulating the world and another sculpting the natural world. Come along to the show this Summer to really experience these sculptures. Remember it's only 3 weeks on Sunday until the show opens!