Fresh Fashion at Fresh Air 2017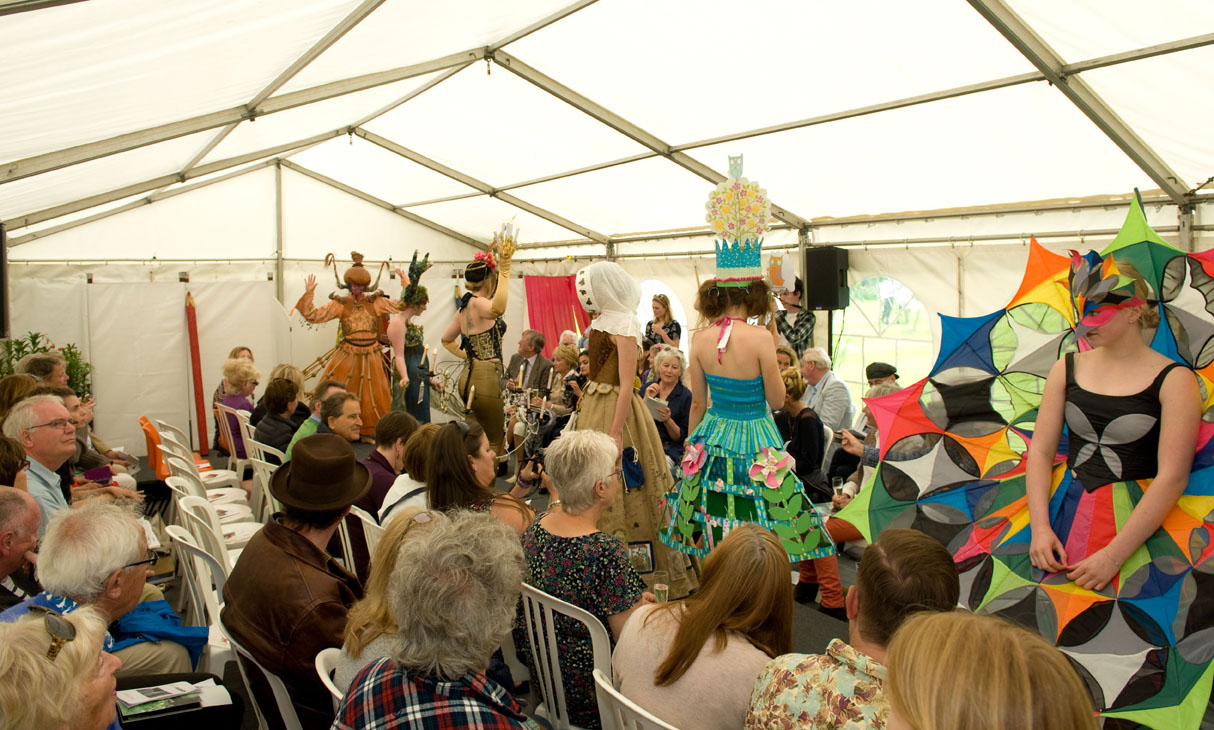 Wearable art is all the rage, but many of the couture designers in the UK have been weaving, painting and printing their outstanding individualistic clothes for many years, largely unsung.
Seamlessly, therefore fashion moved into the Private View of the opening of Fresh Air, 2017
One off fantasies from Art Couture Painswick (www.canvasforcreativity.com) opened the show and our thanks go to the designers and to ACP and their models for this blast of imagination and theatre. Equally colourful and fantastic was shown by Corinne Hockley working in mixed media and her background in the performance arts is evident in a frock for all seasons with a wonderful parrot tulip headdress by Ellys Beale at the textile studio 07824 602955
Theatre was enhanced by dancers, Olivia Brown (olivia@oliviabrown.uk.com), Celina Liesegang, and Simea Cavelti and trapeze artist Alice Watson (aliceaerial@gmail.com).  Liz Lipiatt (lockstone777@gmail.com) and Stroud-based Studio Seven Collective  includes Sarah Pearson Cooke (www.sarahpearsoncooke.com )and  Jenny Bicat (www.jennybicat.com) all explore unconventional ways of showing textiles.
Nick Ozanne volunteered as a model but is also a weaver working with wonderful natural fibres on traditional looms (nick@letoariadne.com).
Working together, Sarah Jenner and Kathryn Clarke combine the textile skills of hand-dying with the dress designer/maker (Kathryn@kclarkie.wanadoo.co.uk).
Other designer/makers working together are Stephanie Kemp, weaver and pattern cutter and Alison Dupernex famed for her knitted textiles  designerweavingco@btinternet.com and alison-dupernex@hotmail.co.uk
The make up by  Rachel Rigg of Rock Your Face, Emiley John Beauty (emileyjohn@gmail.com) and Lorraine of Lorraine@cheekypotatoes.co.uk.  Hair was dramatized by Lindy Gallagher.
Hats are by Sarah Cant, couture milliner devoted to making hats and headpieces from the finest materials www.sarahcant.co.uk and were shown with Liz Lipiatt's clothes and Carole Waller's  beautiful painted silks www.carolewaller.co.uk.
Textiles are at the heart of Rachel David's studio in Warwick (textileanarchist@gmail.com)
Dorothy Reglar is a designer/maker with couture experience. The textiles she loves inspire and inform her designs.  The collection at Fresh Fashion are inspired by the Japanese Boro technique in cotton, silk and hemp.
Jasmine Hixon weaves complex cloth and designs distinctive coat and dresses.  This capsule collection reflects her fascination with colour and texture that have always been the focus of her work as a designer jasminehixson@btinternet.com
The jewellery was designed by Katie Zoraida, much inspired by plant life at Quenington Old Rectory. She has made designs for HRH Duchess of Cambridge www.catherinezoraida.com
There was also jewellery by Janet Goddard who has been stringing beads for ten years. She works with semi precious stones.
Sophie Campbell and Emma Welstead started WREN cashmere in 2016 selling shawls, hoodies and scarfs in chic designs www.wrencashmere.com
Susan Early created, especially for the show, some of her distinctive basket bags in willow with leather straps
MacGregor and Michael make a range of men's and women's bags, and luggage from the best quality vegetable-tanned leathers  www.macgregorandmichael.co.uk
Our thanks to the maker designers taking part in Fresh Fashion who kindly agreed to donate 10% of sales to the Quenington Sculpture Trust.