Guest Blog Post by Sarah Edmonds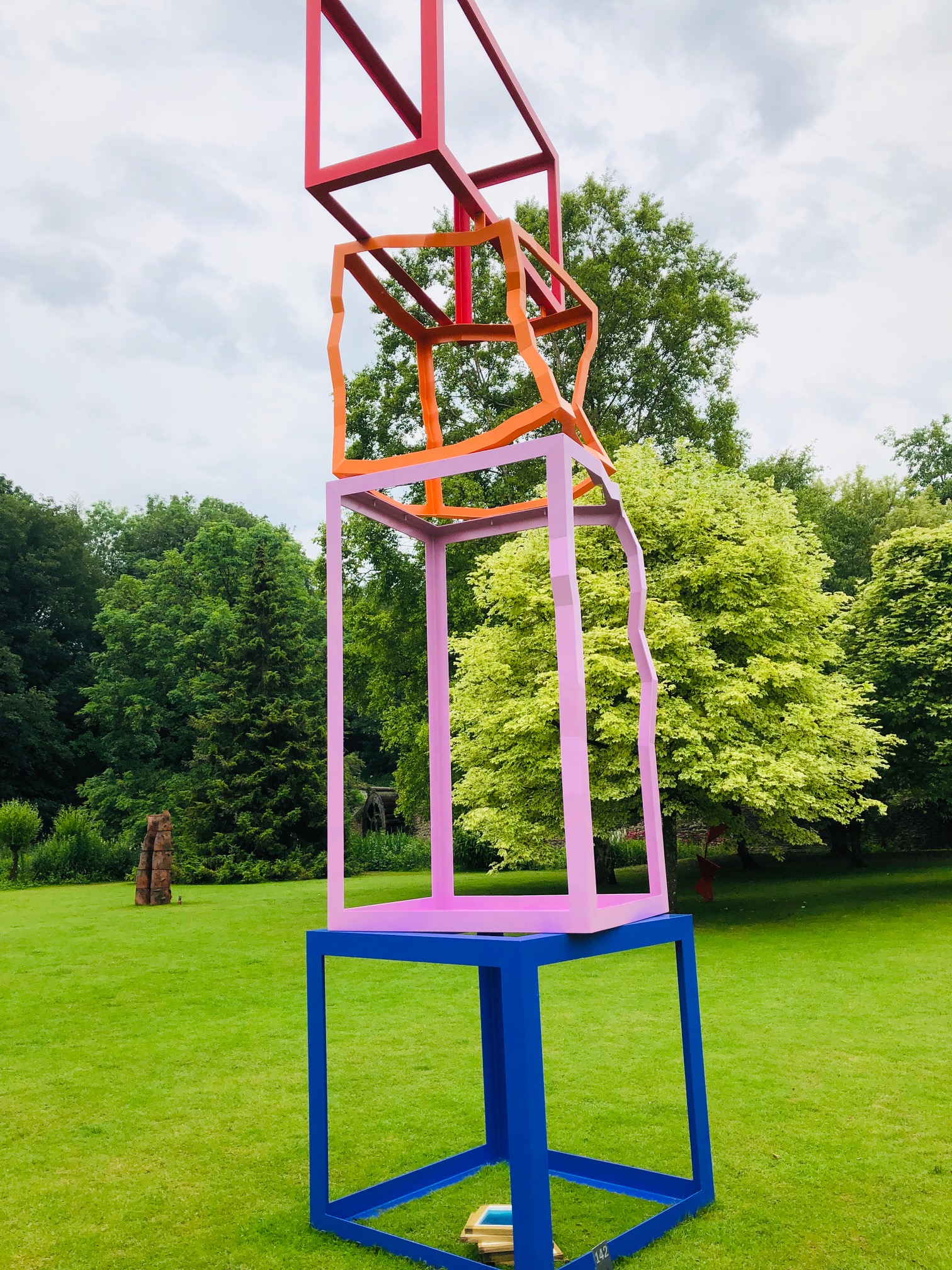 Fresh Air Sculpture 2019
Fresh Air Sculpture is a show that I never like to miss. Our very own Quenington Biennale, it comes around every other year and it's certainly worth waiting for. Bouncing along the cow parsley country lanes, you get a glimpse of a pop of bright colour or flash of reflective metal and you know you've arrived. The location is charming – five acres of organic garden with the sparkly River Coln running right through it, an eye catching modern day drawbridge counters the impossibly beautiful honey stone Grade II listed manor house at the centre of this outdoor theatre, it is very pretty indeed. On the morning I visit, the air is close and balmy with a storm brooding above, the birdsong is broken by the sound of gentle water fountains and the heady scent of lilies welcomes you in. That would be reason enough to visit, and yet there is so much more to see…
There are 130 contemporary sculptures to be admired and bought – this is a unique shopping opportunity, with sculpture, ceramics and jewellery on sale from as little as £50 scaling up to £50,000. Visitors and art collectors from far afield make the journey to snap up an original – there is nothing shy about the work on show here. In fact, there is a very spirited pair behind this much loved event and it is reflected in the sense of fun and quirky pieces on display – art collectors David and Lucy Abel Smith have led this show since 1994 as 'fertile ground for creative endeavour.' It has grown to become a respected national gem welcoming over 10,000 visitors in 2017.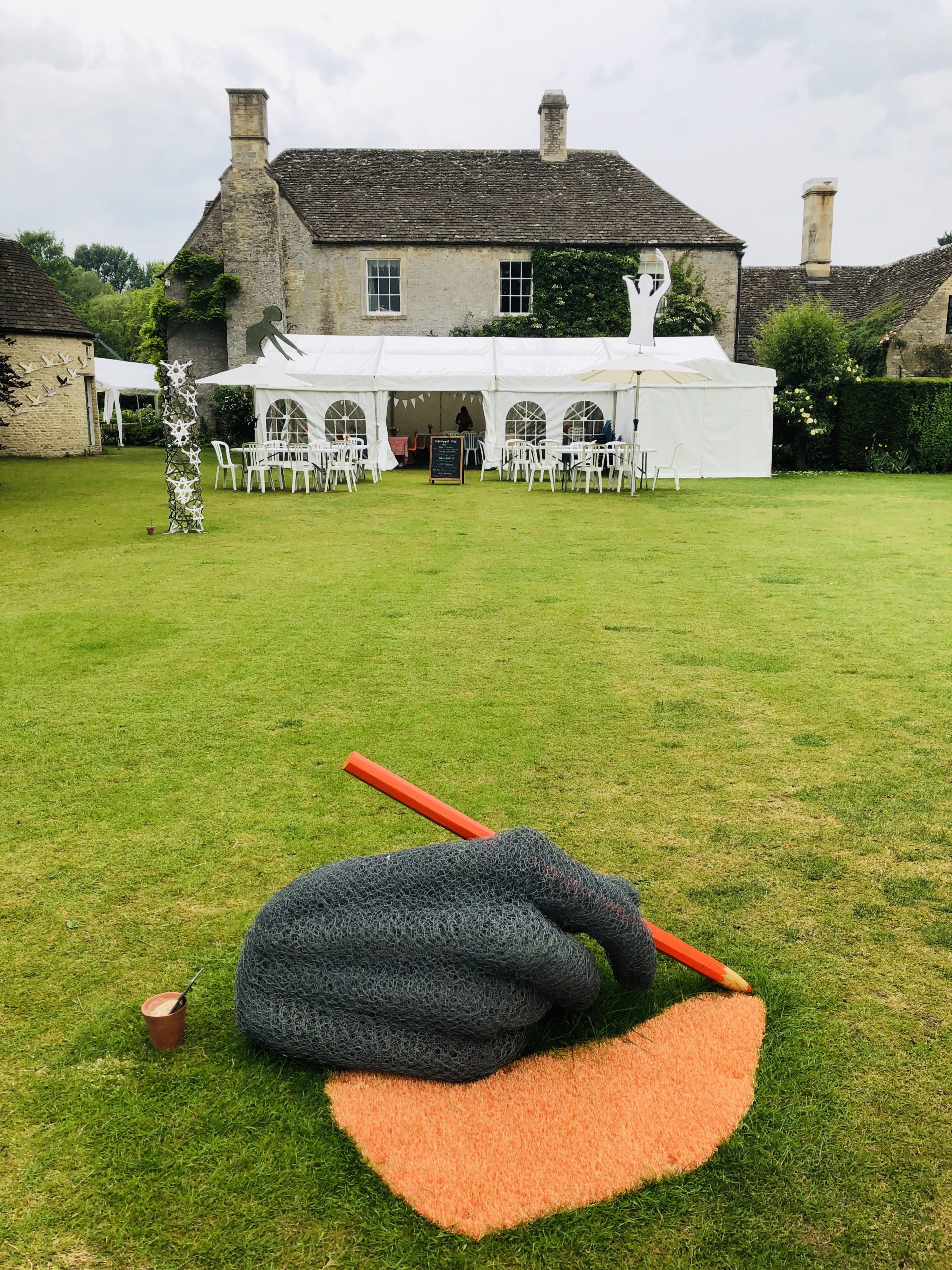 The magic is in the witty curation of the show – led by Sarah McCabe. Her keen eye carefully pairs each and every piece with their surroundings, leading the visitor on an enchanting journey. Something always sneaks up on you from behind a hedge, delicate metal 'Wildcarrot Stems' by Ruth Moilliet pop up in a garden border, a bulbous bodied bright blue bottom of hand standing man by Clare Ferguson Walker can't be ignored, or a 'constellation disc' by Michael Fairfax happily spins in a tree! An oversized garden bench invites little visitors to climb all over it, thanks to Peter Lanyon furniture maker, 'garden benches are my favourite things to make.' And just plain wonderful, unabashed contemporary pieces that make you smile like Lucy Strachan's 'Dream Home' – a nine metre zingy neon orange pole with a crushed sculpture of a house perched at one end. What does it mean? Who cares, it's wonderful! It would be hard to miss Henrietta Bud's oversized wire hand, scribbling notes into the grass with an enormous red pencil. One of my favourite pieces is 'Hedge Scribble' by Mary Butcher Baskets. She has taken an ancient medium, traditionally used for basket weaving and hedge making and transformed it into an abstract sweep and twist with real movement. The craftwork is clever and the result is very beautiful.
Water is always a central feature of this show with Alison Berman's fountain featuring as part of the permanent collection, captivating audiences at the river and Giles Rayners iron water sculpture shaped like a giant orange peel emerging from the lily pond. As a close friend, I have enormous respect for his skill – he designs, engineers and sculpts his glorious water installations largely on his own. He is a second generation 'waterman' with incredible technical ability and creative vision. He has recently installed a gigantic, forty-foot rotating water sculpture weighing fifteen tonnes outside the Royal Opera House in Muscat! Here is a chance to see the work of this extraordinary sculptor. From the extraordinary to the sublime – it may seem unlikely, but there really are sharks swimming along the River Coln this year… well James Stonework has installed slate shark fins that definitely appear to be on the move… a pair of sleepy ducks lean happily against one fin and don't seem the least bit bothered!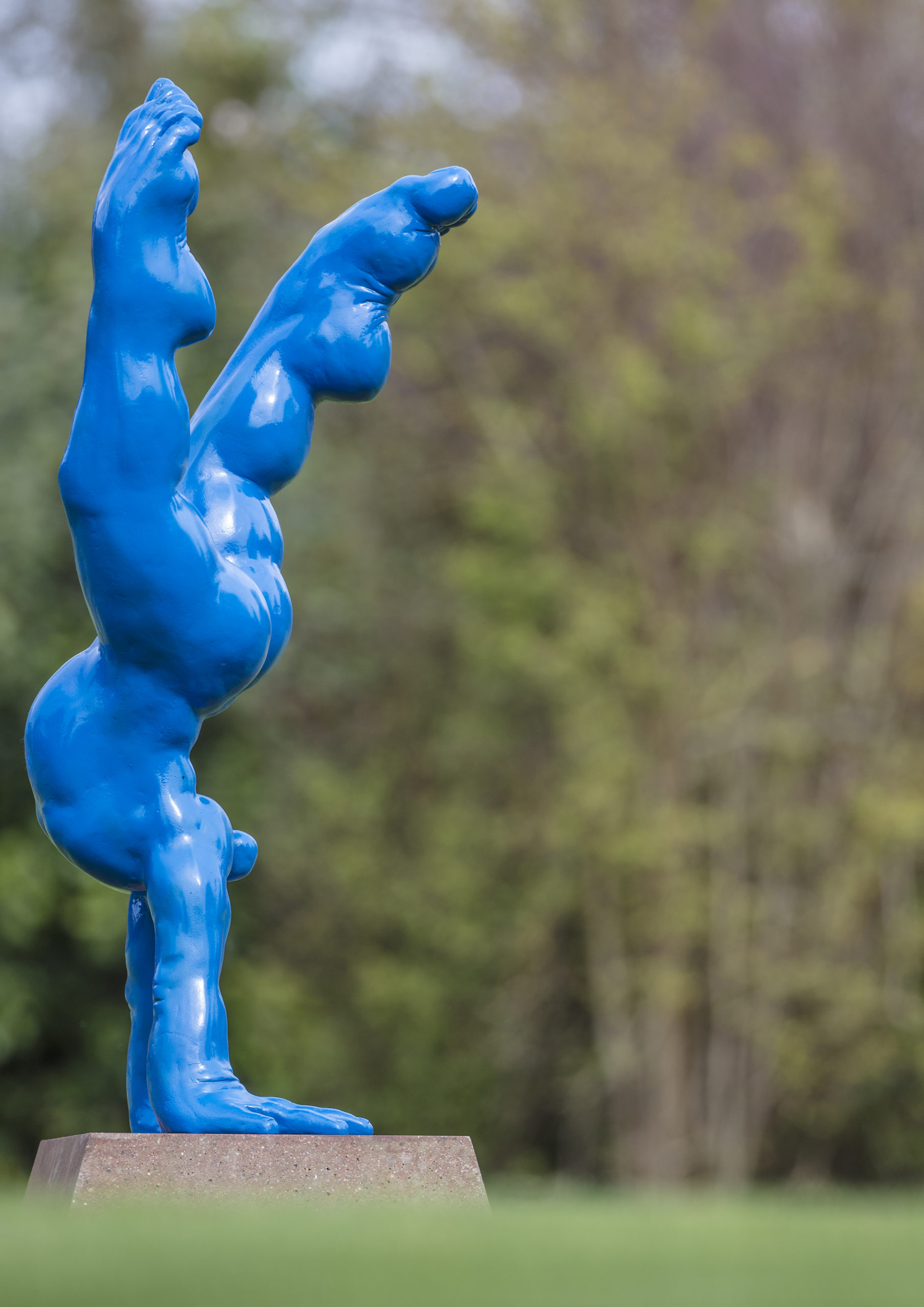 The joy of Fresh Air can be found in the witty reimagining of everyday objects such as the glorious giant pears (not peaches) of Vik Westaway who claims, "In these crazy times, a walk through this beautiful garden is a real tonic!" Even a simple garden bench designed by Waywood Furniture Creation, is made with humorous elegance and the Mirrored Quadric bench is there to be used and enjoyed.
'From Where I'm Standing' is the theme of The Pool House Gallery taking in the literal perspectives of visitors to the varied interpretations of the artists themselves through clay, glass, metals, wood and cloth. Disciplines include ceramics, jewellery, paintings, furniture, stained glass and mosaic, notably that of established artist Cleo Mussi who exhibits 'All Consuming' an arresting piece of wall art using recycled mosaic, prompting reflection around the theme mass consumption of the world's resources. Sticking my neck out, Mussi's sculpture would make a really good investment – you can purchase a mosaic hand for as little as £145. The hardwood bowls of Peter Archer are sublime, as are the Cornish inspired indigo ceramics by Nigel Lambert. There is much to admire, including the elegant jewellery of Catherine Zoraida….who wouldn't want a monkey hanging off their ear?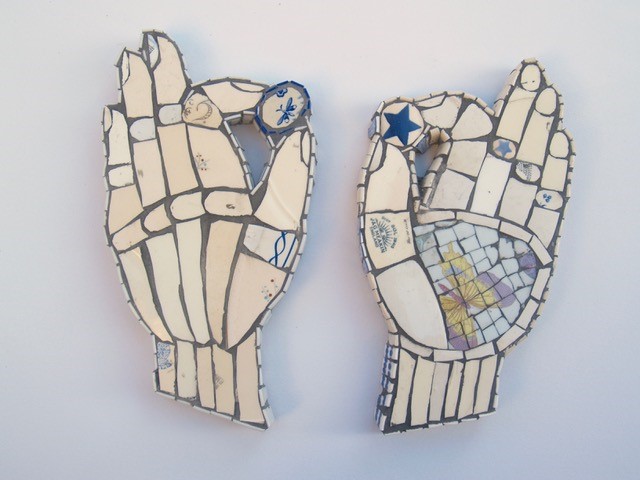 There are important charitable aspects to this show that you might not have time to appreciate on a sunny afternoon, enjoying a cool drink and the convivial atmosphere. Fresh Air Sculpture has set up ECCO which stands for Encouraging Children to Collect Objects, asking each exhibitor to donate a sketch, model or object – they are on sale for youngsters aged 18 or younger at a much reduced price from £10 – £60. If you have a little collector in your family, it's a bright idea! My mother was an antiques dealer and I have been collecting since childhood and will encourage my own sons to do the same. The Quenington Sculpture Trust also runs an educational programme for schools, colleges and adults with workshops, school visits, tours and activities which supports and engages the local community. Working with the community and outdoor learning trusts is very much at the heart of this show, accessible and enjoyed by groups of all ages, from all walks of society.
Not one to sit on its laurels, the Fresh Air team have also introduced Fresh Air Fringe this year, incorporating a new venue, Quenington Village Hall, and pop ups from Laura Long Contemporary who exhibits work from eight different artists, St. Swithin's Church and the Ernest Cook Trust (beware of the sabre tooth tiger), Steve Russell Photography and food by Camp Kitchen. Enjoy delicious street style snacks or a weekend treat of locally sourced slow roast pork, fresh tasty salads, vegetarian and vegan food courtesy of Rory Baxter, a Michelin trained chef.
Photographer Steve Russell has an office and studios based at The Pangolin Foundry in Chalford and is known for his stunning imagery of award winning sculptors associated with this leading foundry. He is exhibiting photographs from his extensive travels to a relatively unexplored region in East Africa. 'Mountains of the Moon' is a snapshot of the years of documentation from these fragile mountain landscapes and the rich wildlife and was recently exhibited at the Royal Geographical Society.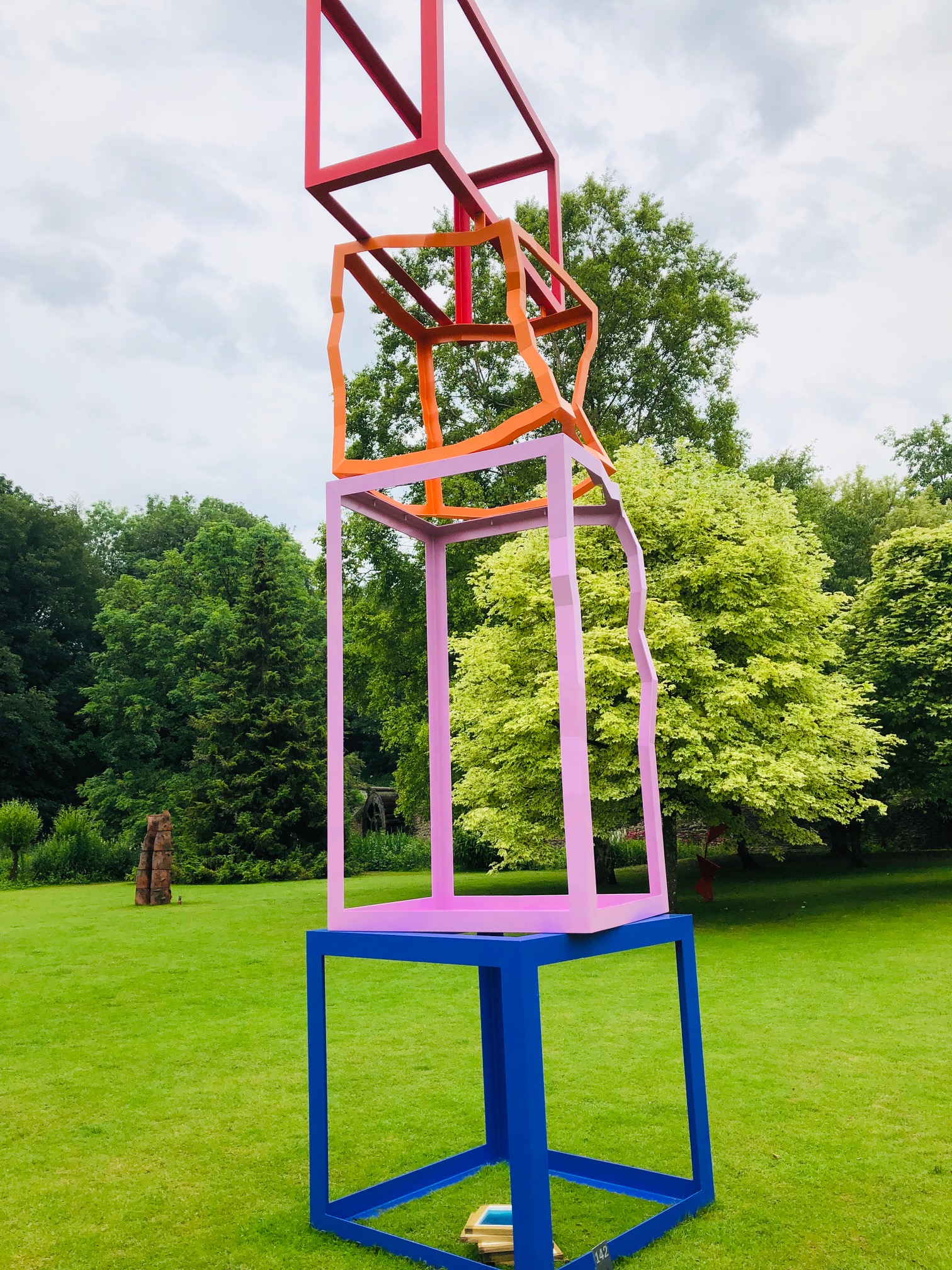 So, we all pick our favourites don't we? My top three includes the recognisable curves of Jon Buck's 'Dove', a mere £25,200, 'Abstract' ~ a pair of willow sculptures with a wisp of willow smoke by Julia Clark and 'Sunset Trap' by Almuth Tebbenhoff, an unruly, stacked steel edifice, bold in colour and scale. I could, however, visit on another sunny day and make a whole new selection!
Hiding at the far corner of the gardens, are two sparkly torsos that pop out from amongst the onions with arms aloft, waving 'Goodbye! Thank you for coming!' You may find that some people are going to the most extreme lengths to get to Fresh Air this year… don't be alarmed by the white marble resin 'Metamorphoman' crawling his way out of the earth near the Pool House! Or you could just pay £7.50 at the garden gate…