Two Decades of Glass Sculpture by Richard Jackson and Sally Fawkes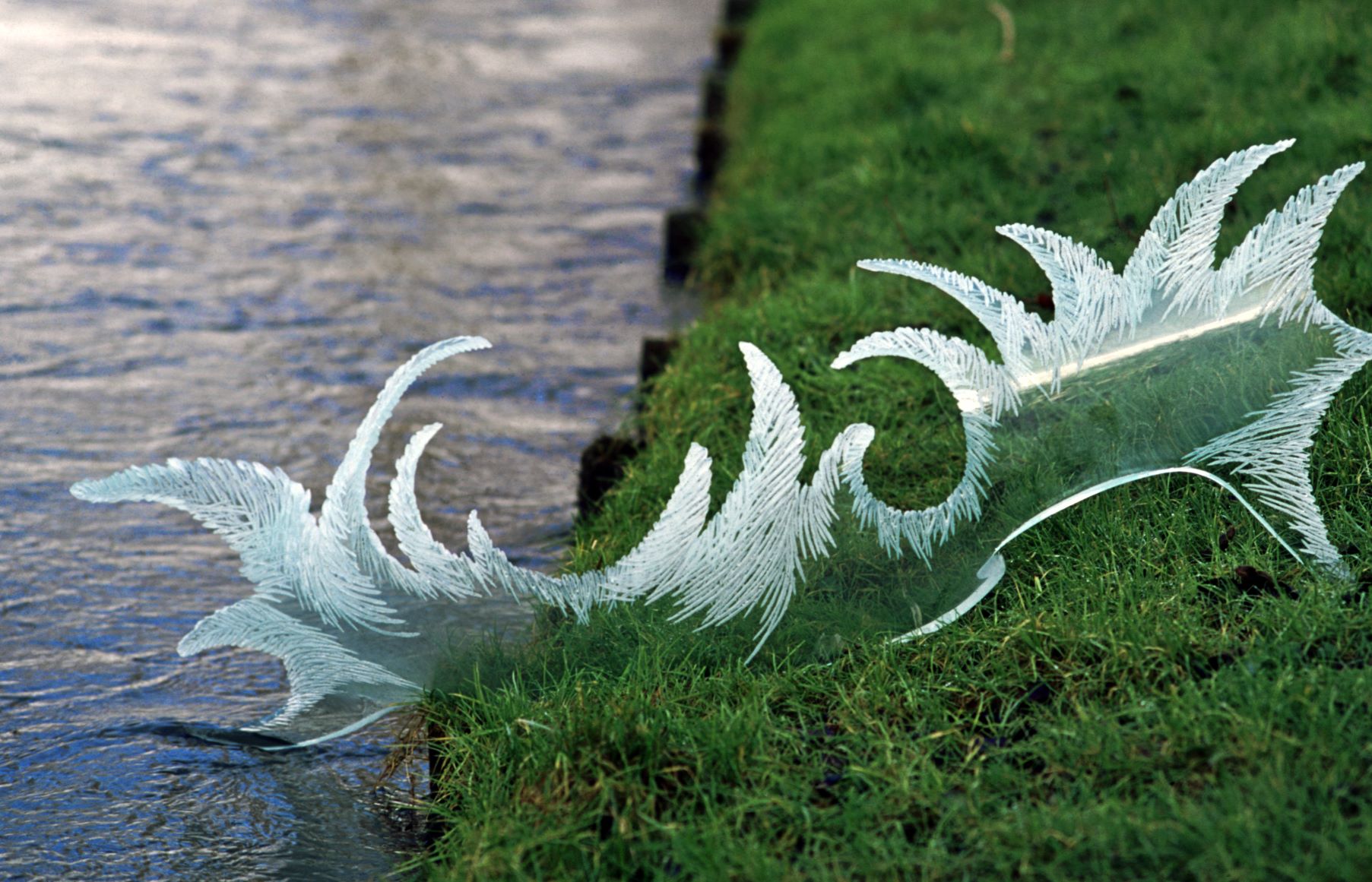 Richard Jackson and Sally Fawkes are artists with established solo careers sculpting predominantly in glass. Their passion and joy for integrating their ideas with material mastery has led them to establish a studio in the Cotswold town of Stroud.
Sally and Richard have an extraordinarily strong connection with Fresh Air Sculpture and have exhibited beautiful glass pieces of work at every single show since 2001. They will also be joining us for Fresh Air Sculpture 2022.
In this visual diary, we look back at two decades of glass sculpture; Richard and Sally's journey making sculpture for the outdoors and we explore each piece they have made for Fresh Air Sculpture over the years.
Sally and Richard's creation of works for the outdoors all started with an invitation from Lucy Abel Smith (the founder and director of Fresh Air Sculpture) to exhibit at Fresh Air Sculpture 2001. The invitation was as a result of a recommendation to her from Brigid Howarth, then at the Crafts Council and now Head of Society, Culture and Organisations sector team at the University of Exeter. Lucy has been promoting glass in the outdoors since the beginning of Fresh Air Sculpture in the 90's.
Living close to Quenington, Sally and Richard visited the gardens in advance to absorb inspiration from the grounds of The Old Rectory and familiarise themselves with the exhibition space and locations for positioning the work.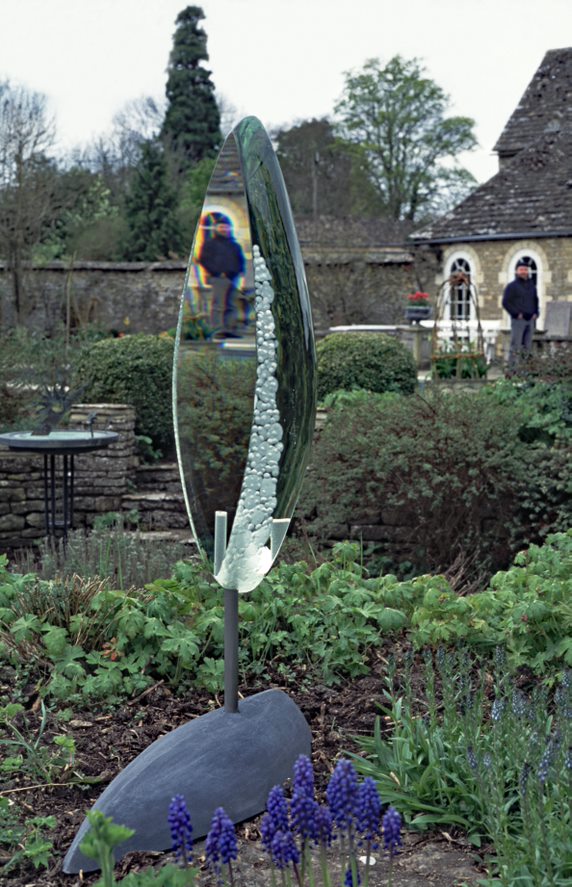 Two pieces were shown at Fresh Air Sculpture in 2001. 'Silent Secret' by Sally was bought by Lucy and David Abel Smith for their own art collection and is still sited in its original position in the gardens. Richard's 'Walking Ice' was featured in the Telegraph magazine in June 2001 in an article entitled "Come on in the Lawn's Lovely" focusing on the works at that year's show.
Richard Szpiro, a visitor to Fresh Air Sculpture 2001 admiring 'Silent Secret' asked Sally whether she could make a 6ft sculpture inspired by the piece. Richard explained that he had recently bought a new house and when he viewed the property there was a Lynn Chadwick bronze sculpture in front of the house which was not there when he moved in. Richard wanted to site a new sculpture in the exact location that the Lynn Chadwick had occupied.  As a result, Sally created  'Silent Moment' which was installed in 2002.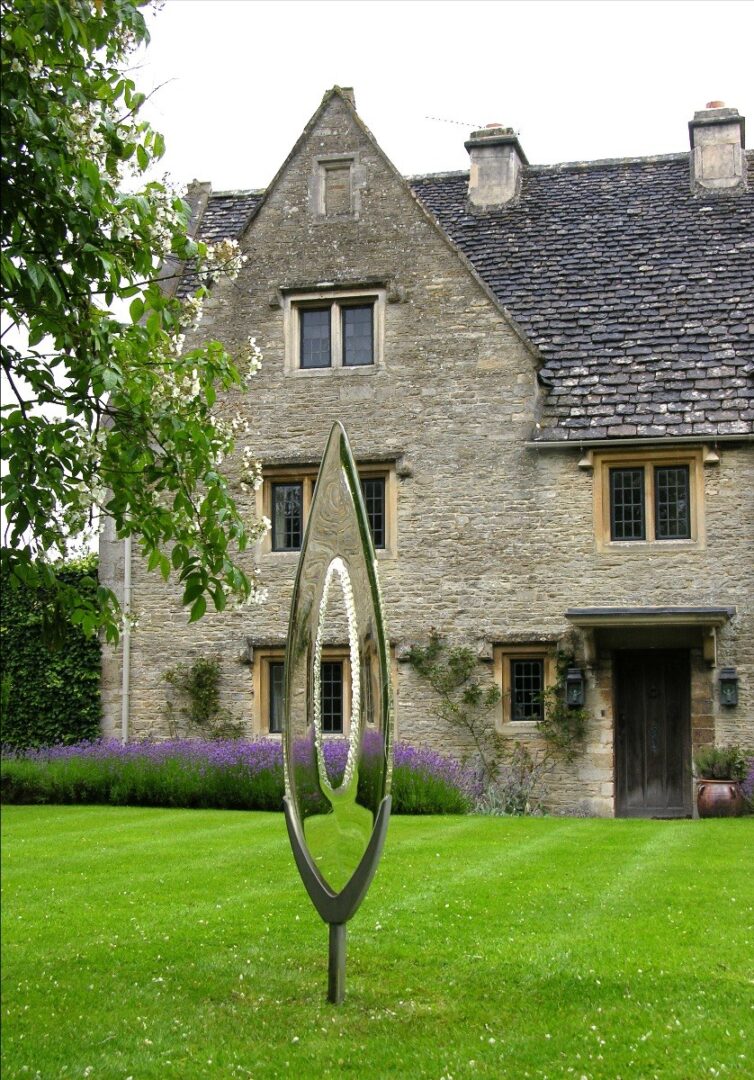 For Fresh Air Sculpture 2003, Richard created 'Guarding the Heart', a technically challenging sculpture to make. The piece is physically symbolic of its meaning; two slumped glass long, vertical, pointed forms are secured mechanically to a patinated steel post by pointed bright stainless-steel elements, all protecting a central cast of transparent glass.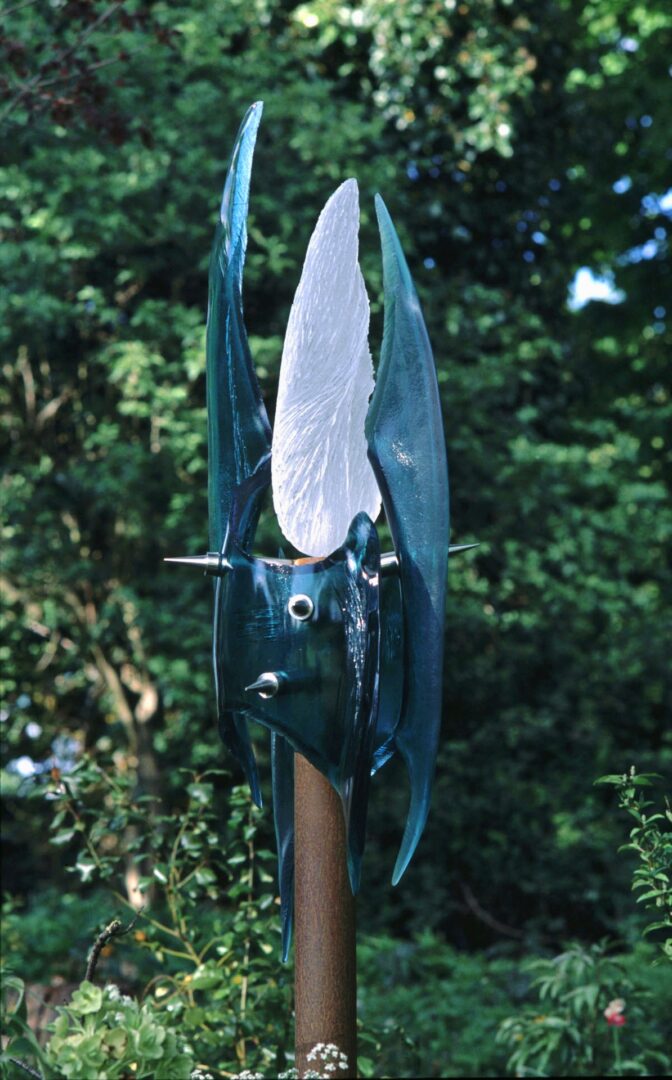 'Exchanged Glances I' became a poster image for promoting Fresh Air Sculpture 2005. The sculpture could be said to sit loosely within the realms of figurative abstraction with its form taken from the moment when two people walking, pass each other and turn at the same moment meeting each other's gaze. Juliana Grose, a trustee of Fresh Air Sculpture in 2005 said she fell in love with 'Exchanged Glances I' the first moment she saw it and still loves seeing it every day in her garden.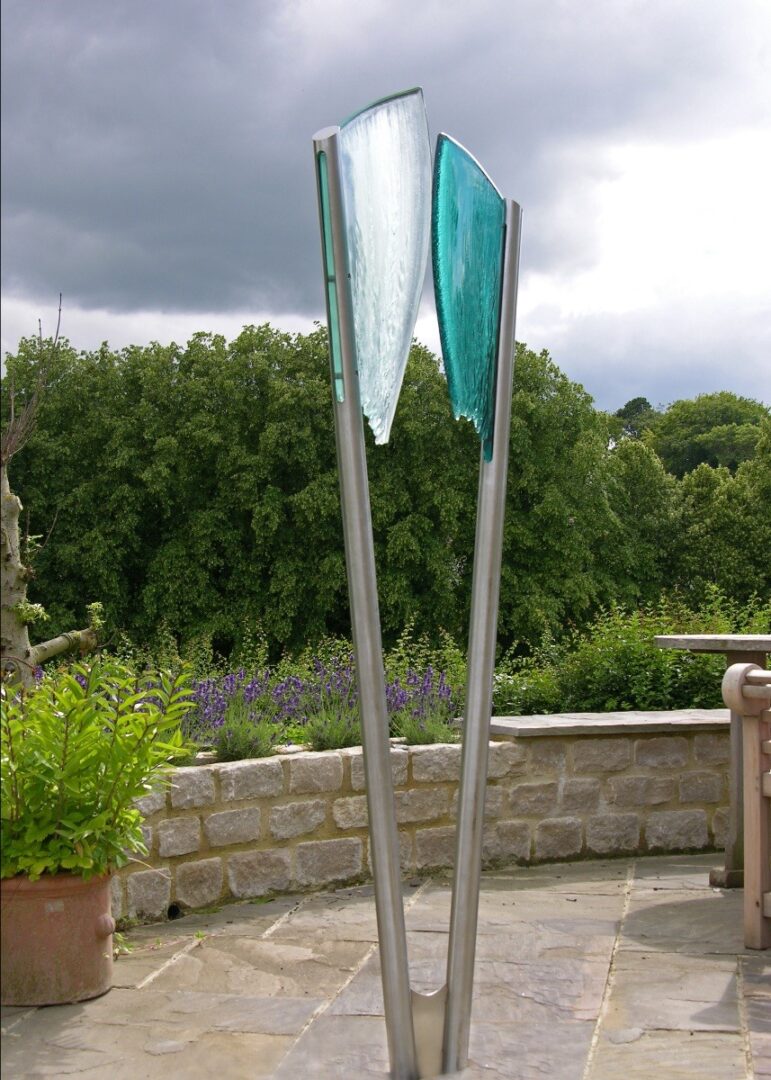 'Defining Significance II' by Sally Fawkes was purchased by Sir John Aird from Fresh Air Sculpture 2007. John Aird says of his sculpture
We have much enjoyed Sally's Glass Sculpture which looks very good on our front lawn and which requires remarkably little maintenance.
Sculpture sited outdoors all year round does, in general, require some maintenance, just as anything kept outside does. People sometimes question whether glass is suitable for outdoor display. Glass is actually a fantastic material to place outdoors, it is very resilient to all weathers and looks superb all year round, requiring minimal maintenance. Richard and Sally say an annual, or maybe 6 monthly clean down with water using a soft nylon bristle washing up brush should be enough to bring a glass sculpture back to its original sparkle.
'Defining Significance II' has stood in the same spot for 14 years and looks as fresh now as it did when it was first installed.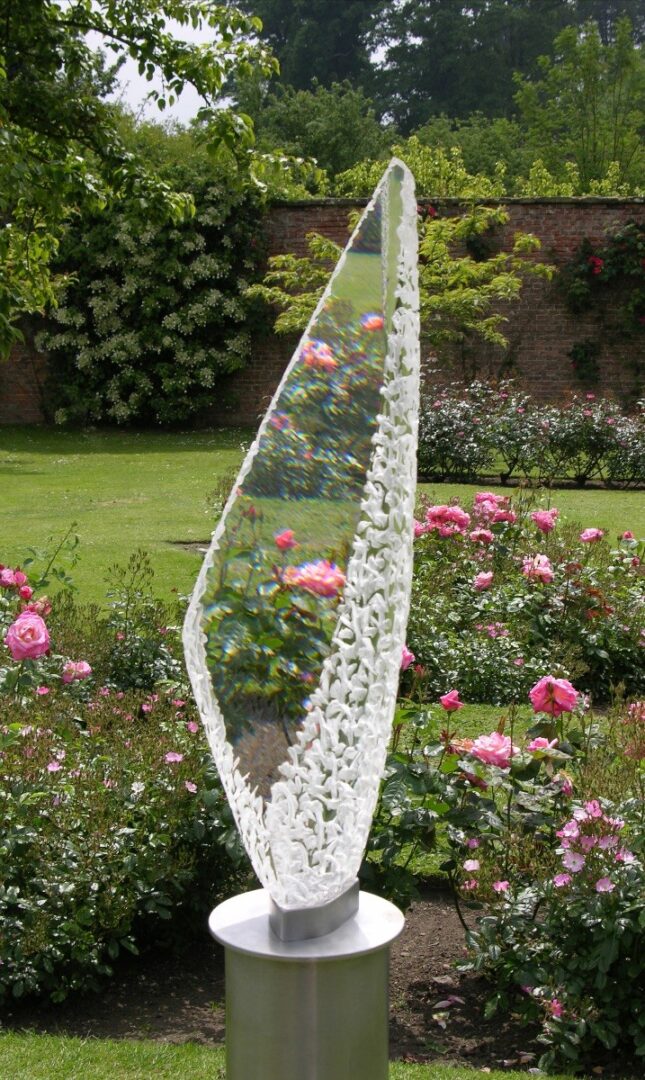 'Significant Rhythms' created by Sally was shown at Fresh Air Sculpture 2009 and has a positive lightness about its form with gentle flowing engraving travelling up its parallel edge planes. The individual layers of engraving were abstracted from observations during the seasons in a year of a wooded location near the artist's home. Sally used the properties of glass when its form is both lensed and brought to a vanishing point to create the sense of magnified closeness and the distance horizon within the same space, a place where she intended to enable the imagination to connect with the vast fabric of nature that surrounds us.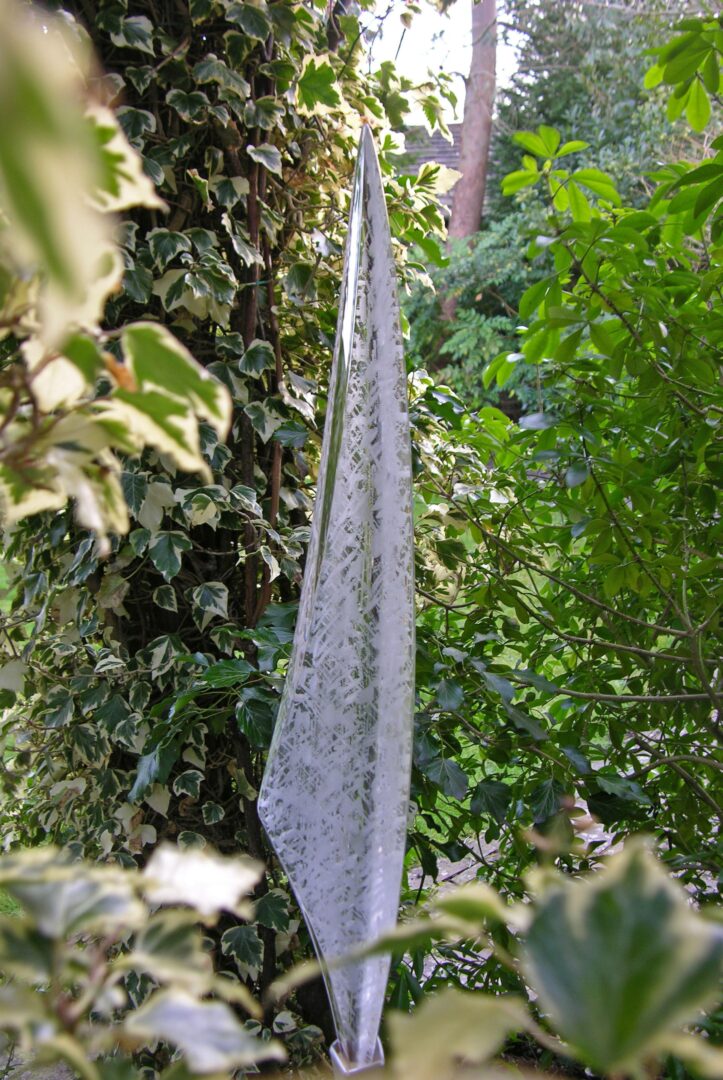 The 'Seasonal Exchanges' by Richard are some of his more literal sculptures. Shown at Fresh Air Sculpture 2011, they are created in 25mm float glass. The beautiful evocative transparent cool blue is created by the iron content in raw material formula of the original float glass production. Kiln formed by Richard overlapping carved textures and patterns are abstracted from different visual textures generated in the landscape through the different seasons.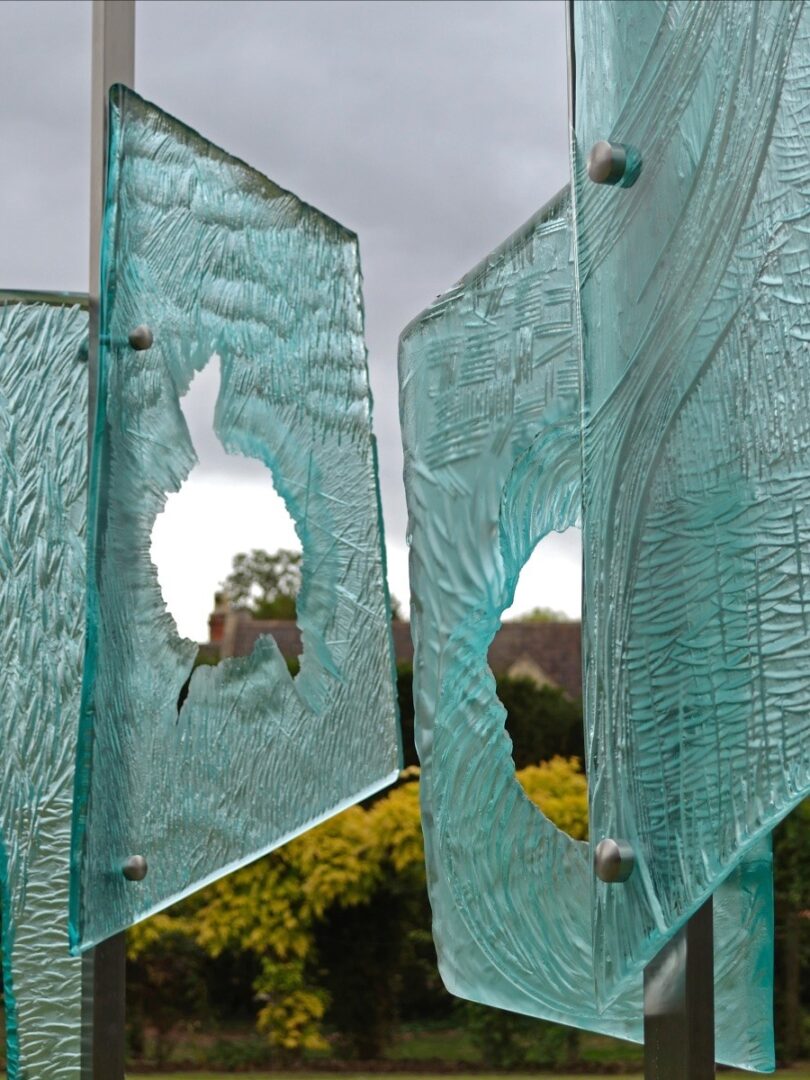 Fresh Air Sculpture 2013 saw Richard and Sally place 'Planes of Motion' on the bank of the River Coln by Quenington Old Rectory. Two elegant curves of stainless steel support a large soft triangular glass form at eye level. Viewing the landscape through the glass delivers a new experience. The image you see is displaced and slightly refracting, prompting you to search for the "original image", and the glass very gently moves, as the steel structure of 'Planes of Motion' was designed to enable gentle movement in a breeze, hence the name 'Planes of Motion'!
Richard and Sally's work centres on perception and interaction with spaces and places. They are interested in layers of place, how history informs the present and how, in turn, people interact and respond to their surroundings, potentially transforming their thoughts on approaches to the future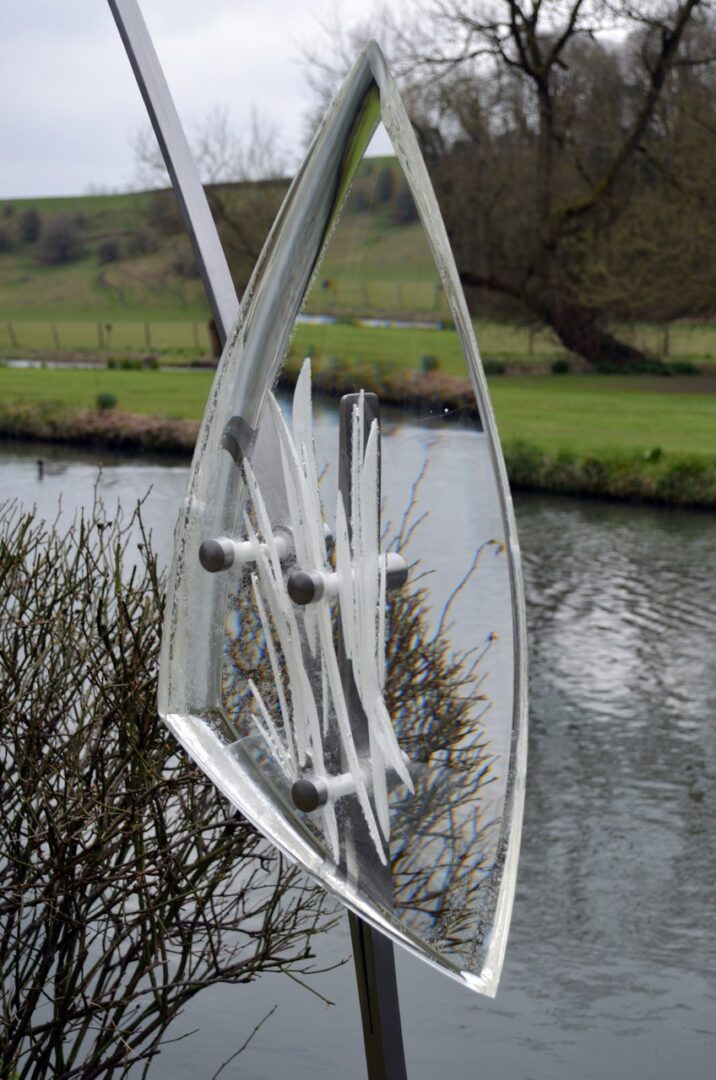 'Planes of Observance' for Fresh Air Sculpture 2015 encourages more than one understanding from various points of view. Walking around the sculpture you get to watch the changing perspectives and images captured within the glass, meeting four different points of total internal reflection and multiple changes of view.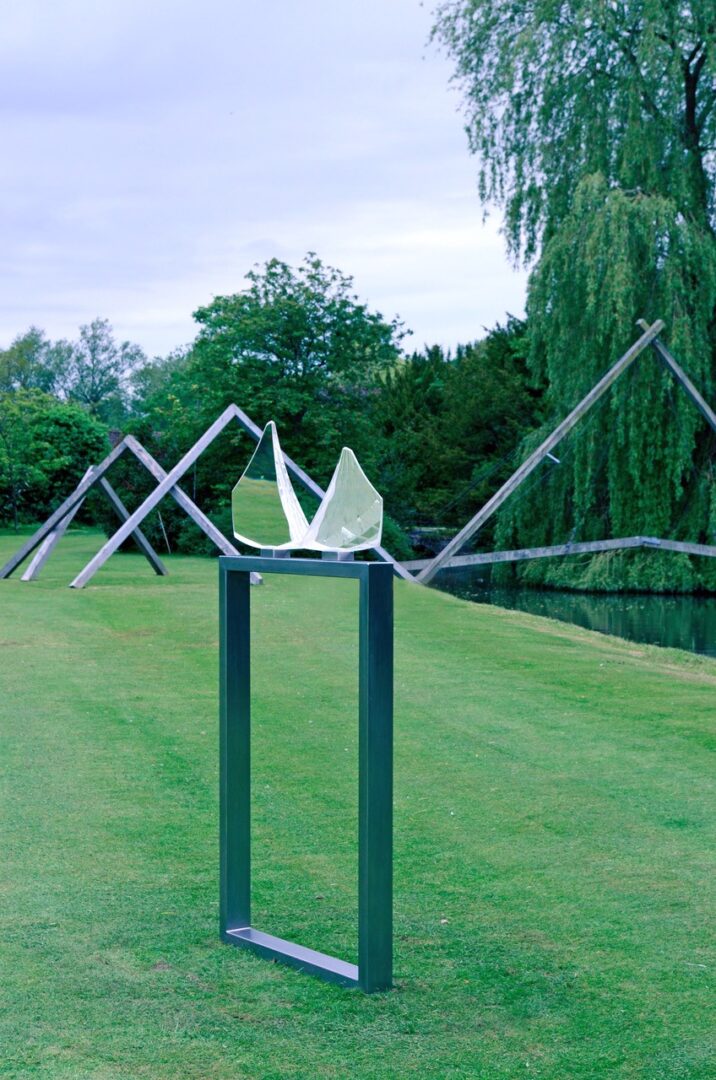 'Inhale Exhale' expresses a moment of poise, a pause to breathe in and out and experience a moment of calm. It was a joy to show at Fresh Air Sculpture 2017. Originally exhibited at Salisbury Cathedral in 'Reflection' curated by Jacquiline Creswell, some of the inspiration for this piece came from the incredible internal engineering and architecture of the cathedral's spire dating back to the 1300's as well as the graffiti inscribed by the original craftsmen.
A soaring spire of brilliant optical glass is cradled by a stainless-steel protective structure. The polished surfaces of the stainless steel and glass work together and separately to confuse and delight the eye; where is the boundary of surface, what is inside, what is outside and what is drawn in as a reflection of the surrounding environment?
The surface texture and internal detail of the cast glass adds more layers of detail and another language to explore in the form.
'Inhale Exhale' can be appreciated at a distance as an elegant vertical form, an intriguing ray of light touching the earth, and closer to, as an exciting and complex object which can be explored both visually and by touch.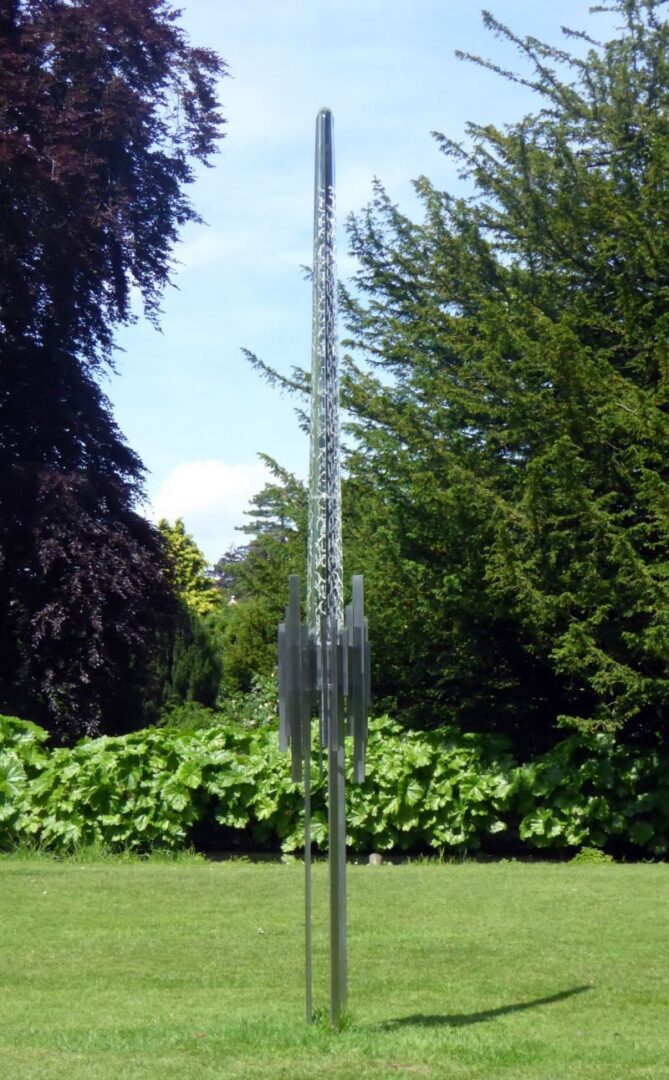 'Singular Moment' for Fresh Air Sculpture 2019 embodies a fleeting moment, one that stimulates many associations and different thoughts which brought together become a powerful lasting moment. The expression of the carved image is bold and harmonious. The gently arcing, sweeping lines lead the way to imaginary places without boundary, joining the freedom of thought with reality.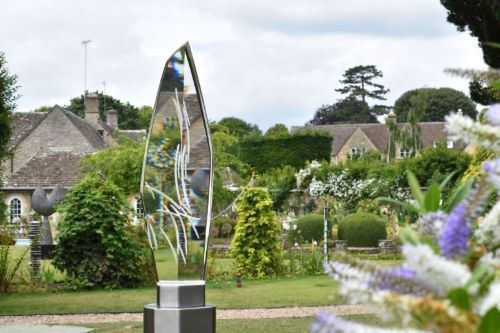 To find out more about 'Eternal Echoes' which Sally will be showing at Fresh Air Sculpture 2022, watch this short video here.