The Deeper Meaning of Sally de Courcy's Mandala Art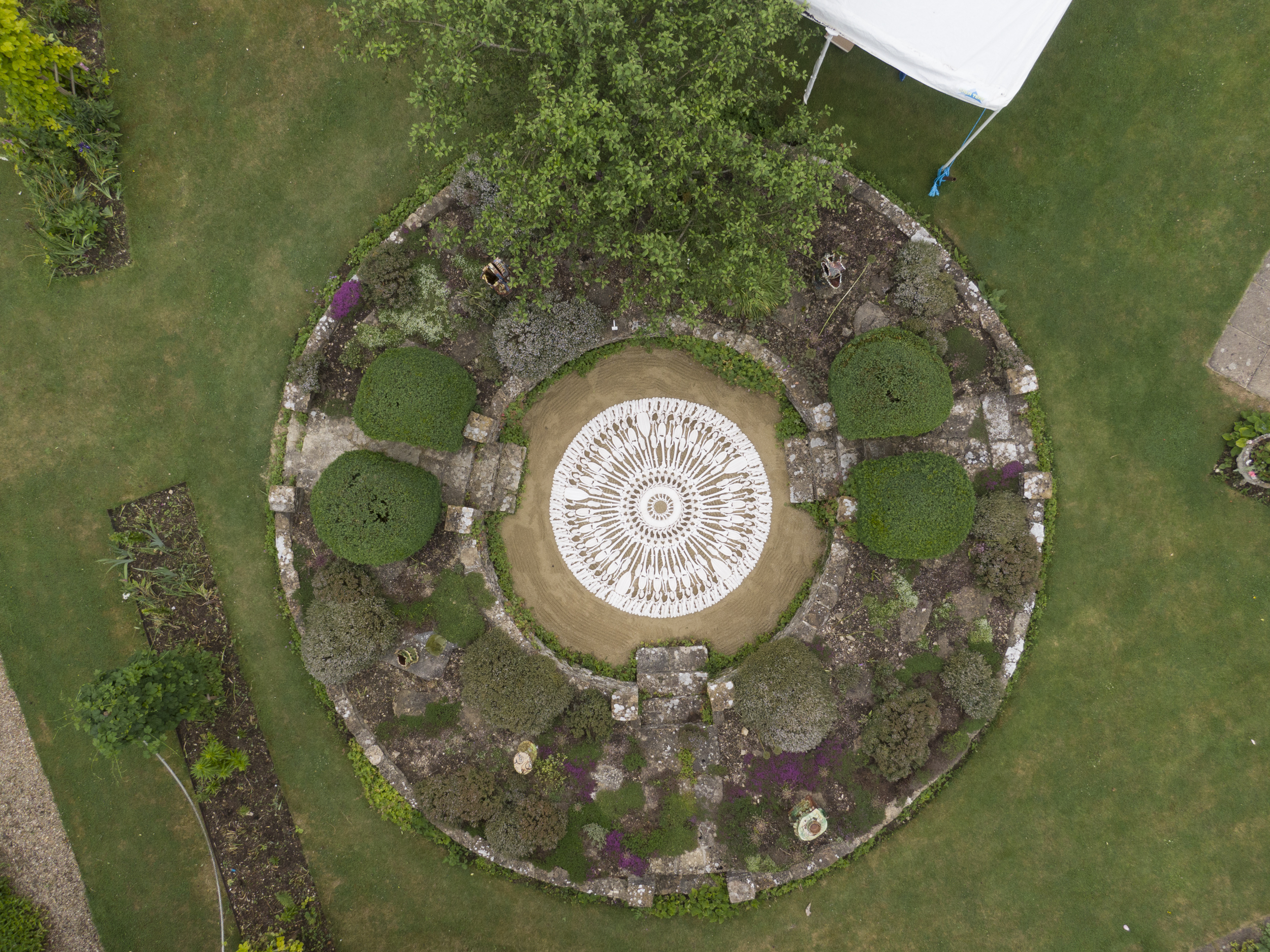 Sally De Courcy's moving and poignant work has been widely published in Flux Review and Artist Talk Magazine.
She has recently exhibited her work in London at The Saatchi and The Fold Galleries with Focus Art Fair and Espacio Gallery, and also in Venice at The Borders Exhibition. She will be exhibiting with us at Fresh Air Sculpture in 2022.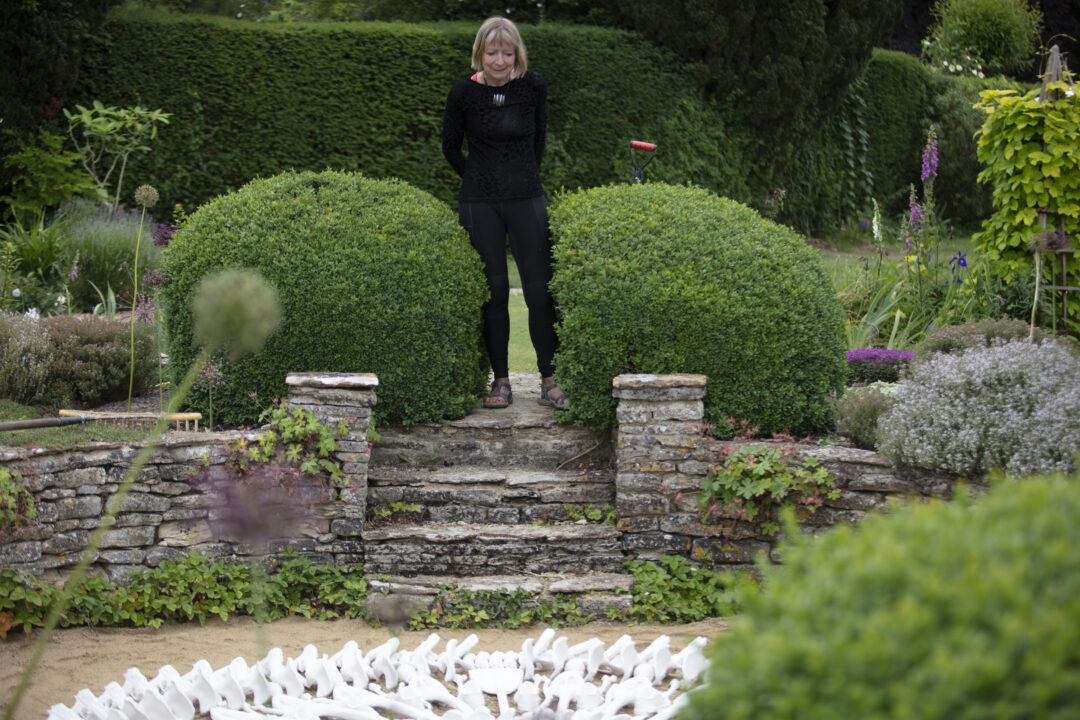 Sally constructs her artworks from cast objects. At first glance these decorative mandalas look strikingly beautiful with their pure white contours and repetitive design. However, as the viewer begins to recognise the objects as symbols of war and death, the aesthetic of the mandala takes on a whole new meaning.
Sally's work is driven by her strong sense of social justice. Born in Canterbury, Kent, she recalls happy days spent playing on the beach, yet these memories are shadowed by the times that refugees would arrive ashore. Having also worked as a junior medic during the early days of her career in Khao I Dang refugee camp, Cambodia, Sally has always carried the refugee crisis close to her heart.
After being forced into retirement due to serious illness, she decided to study Fine Art at The University of Creative Arts, Farnham. With time away from general practice and space to reflect upon her past experiences, Sally's attention was drawn towards her time at the refugee camp. With the constant flow of news coverage on the refugee crisis, her own experiences re-surfaced and she began to process the emotion, devastation and compassion she felt through the medium of art.
This topical issue is just as prevalent today as it was when Sally witnessed refugees arriving on beaches as a child.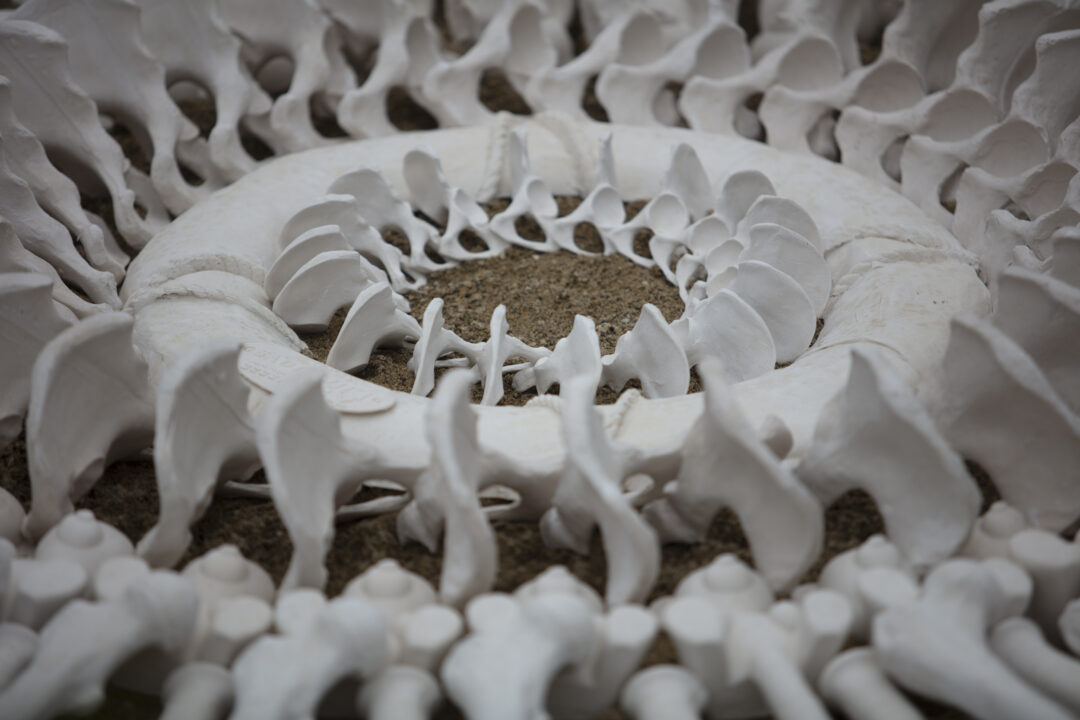 Her work aims to challenge the viewers thinking, to draw their attention away from the distraction of life and towards this continuing, global human rights violation.
Sally's work draws the viewer in with its beautiful ornate design. She is interested in pattern and repetition; mandalas often feature in her work because of their connotations to peace, life and balance. Despite this, Sally uses the aesthetic of the mandala as a juxtaposition to the harrowing topics that she covers.
The circular cycle of the mandala suggests movement and travel; a wheel cog set by the actions of others that force people to move.
Careful consideration goes into each casted object and its contextual relationship to the objects it interacts with. By gathering a lifebuoy, a pair of children's shoes, bones and driftwood, Sally constructs a narrative that goes beyond the ornamental.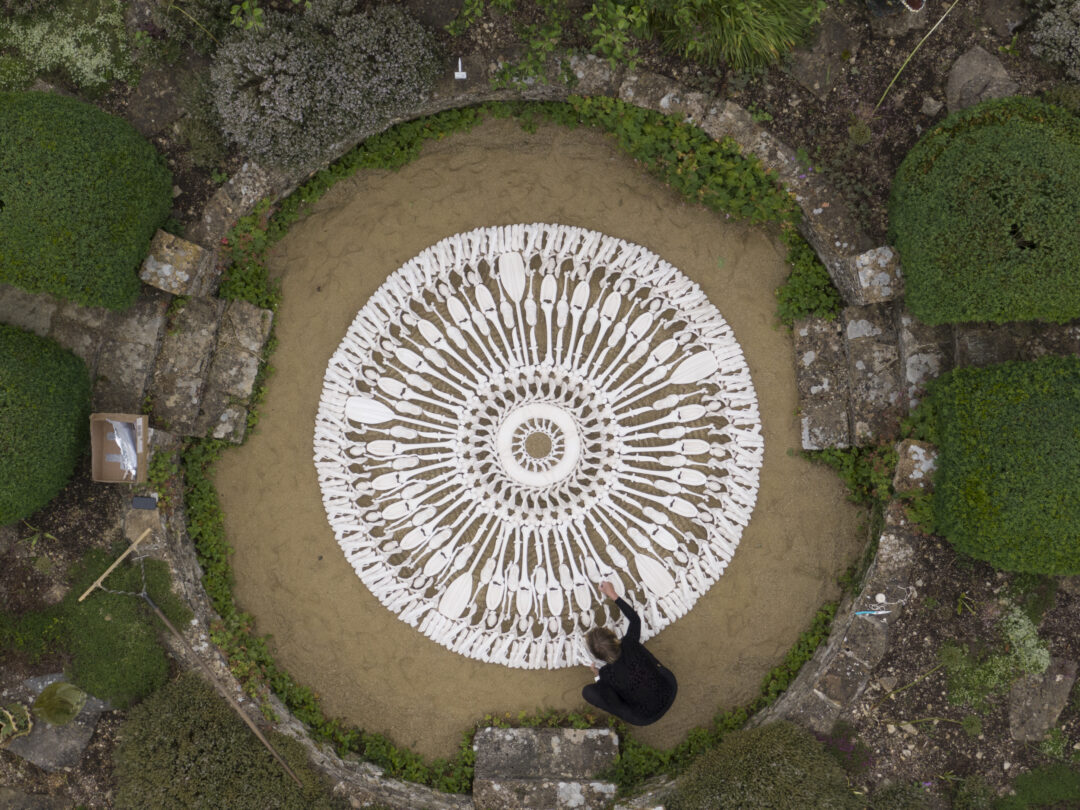 Viewers are then unexpectedly taken to a dark place when they recognise human bones. The human femurs symbolise death and they link back to the physical act of having to flee. Sally accepts the objects that she casts at face value, she doesn't manipulate their size to fit her work. Instead, she allows the objects to determine their positioning, relying on happy accidents.
For example, the knee joint of the femur rests perfectly in the stern of the boat. Even bones that are not anatomically apposed articulate
with each other in a way that Sally naturally embraces; the pelvic bones slot together to form a ring around the lifebuoy. Each object informs how it is placed and when the mandala is complete the outcome becomes greater than the sum of its parts.
We are thrilled and honoured to be showing 'The Colour of Mourning' at Fresh Air Sculpture in June 2022. You can watch a short film with Sally talking about her work here.