The Pool House exhibition invites artist makers from across the Craft disciplines to interpret views. This may simply be a view that is returned to again and again, or perhaps from memory or even fleetingly glimpsed. Or maybe it is about taking a position or viewpoint. 
The seasonal observation of one field, the effect of climate change on our planet, the repetition of pattern in architecture, the colour and biodiversity of a meadow, a river, a woodland. The interpretations through clay, glass, metals, wood and cloth will emerge to form varied and exciting collections. 
Curated by Jo Swait.
Peter Archer
The textures and colours of the landscape that Peter's Shropshire studio overlooks are reflected in the work. His work evolves through the process of making, with each bowl influencing the next. Peter uses only sustainable temperate hardwoods and prefers to source the timber locally whenever possible.
Kathryn Clarke
Kathryn is a textile designer who screen prints cloth, cuts and makes garments and accessories. For this exhibition, Kathryn has overlaid screen prints in different colourways, suggesting boundaries and horizons in the landscape and shoreline of the River Severn. A collection for fashion and interiors has emerged from this exploration.
Amanda Doughty
Amanda's love of contemporary architecture and the everyday urban landscape influences the forms in her work. She combines different precious metals, using contrasting textures and finishes. Her work is angular, sometimes using repetitive elements, often detailed with precious stones. Amanda lives and works in Brighton and Hove.
Elaine Bolt
Elaine is a ceramic artist based in East Sussex, working with clay and mixed media. 
Her current work is inspired by the colours and tones of the Sussex landscape, where the flint and chalk fields of the South Downs provide a distinctive backdrop.
Cara Budd
Cara's jewellery investigates parts of images from London and Birmingham through print and drawings to create sublimated images. The stainless steel structures are laser welded together, then powder coated in order to add a matt coloured finish. The images are sublimated onto stainless steel sheet and heat treated to prevent fading.
Sally Fawkes
Sally has made several voyages now on the arctic coastal waters of northern Norway. The work Sally is exhibiting has either been created whilst out at sea or developed in response to her expeditions on return to the studio in Gloucestershire. 'Our views are forever changing, the horizon is always ahead of us'.
Tanya Gomez
Working in porcelain, Tanya uses a range of approaches in her throwing to create forms that capture the qualities of fluidity and movement and evoke a sense of space. For this exhibition an arrangement of vessels on a mantlepiece is Tanya's interpretation of a wild meadow.
Liz Harding
For some years Liz has drawn, painted and made work about Scrubs Copse. Liz's medium is stitched and painted cotton organdie. A fine cloth, transparent but strong. She adds colour with dyed cloth or acrylic paint, then uses the sewing machine as her drawing tool and then hand stitches to add texture
Fionna Hesketh
Fionna's jewellery is inspired by the landscape and small details she finds within it.From the broad picture of land in low sunlight emphasizing its' contours and textures, to a seedpod burnt by the sun.Fionna works with a variety of precious and non-precious materials, often combining traditional and non-traditional vitreous enamel techniques.
Jackson Fawkes
Richard Jackson and Sally Fawkes collaborate in the truest sense of the word with individual pieces being worked by them both at every stage of the process. Their series 'Notational Movement' is an ongoing development, a creative dynamic of three dimensional studies in glass that observe the changing environment in abstract form.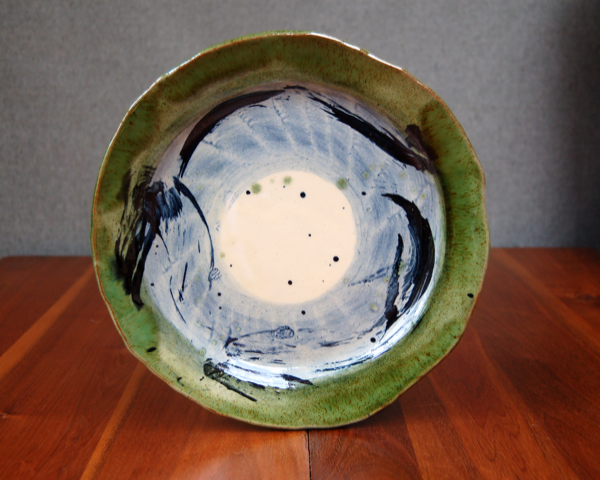 Nigel Lambert
Nigel has always been drawn to the work of Hilton, Frost, Heron and other artists from the Cornish peninsula. They have influenced the decorative marks he makes using Cobalt oxide on white clay slip.Nigel's earthenware pots are fired in a large woodfired kiln which is fuelled with softwood off-cuts, ash and flames adding that extra quality to the finished glaze.
Lawlor & Johnston
Since 1995, Emily and Rachel have collaborated on many public art commissions together.
Their mixed media wall panels take poetry or text as a starting point. Rich textural surface combinations of raku and copper are atmospheric and reflective, picking up notes of colours from their surroundings.
Loco Glass
The group of pieces that Louise and Colin have made for this exhibition will focus on and reflect places that are either made or managed to support and conserve British wildlife in and around Gloucestershire. The intentionally undulating forms are intended to amplify a sense of nature's movement.
Martin & Dowling
From their studio in Stroud, Malcolm and Gaynor make sculpture in wood. Using hand tools: gouge and mallet, and the occasional axe or carving knife, the textures they use are all about repetition. Still Life groups are at once intimate vessels for the hand and a landscape on the table.
Beryl Morgans
Beryl's inspiration is mainly focused on the structures she has encountered whilst walking in Herefordshire and the neighbouring counties. She uses drawing to consolidate ideas and draw together the key elements of the structures and then translates these elements into glass usually through strip cutting and crucible pouring techniques.
Jane Muir
Jane specialises in idiosyncratic figures representing a witty and uncluttered observation of the world. Figures that stand alone or are placed in an architectural landscape are hand modelled, allowing her freedom to sketch with the clay and develop ideas during the making process.
Cleo Mussi
Cleo is an established Mosaic Artist working with reclaimed ceramic. She is a modern day folk artist and her work reflects the world that we live in whilst connecting to bygone days. Cleo often explores complex ideas; most recently mass consumption of the world's resources, evolution and migration in plant form.
Janet Page
Janet has always been fascinated and inspired by stained glass. After many years working as a graphic artist, she has now turned her hand to designing and making contemporary, decorative glass pieces. She uses traditional stained glass techniques and has a particular focus on painting the glass. She produces one-off pieces as well as working to commission.
David Ian Smith
Traditional woodworking skills combined with an engineering background enable David to produce furniture with a distinctive appearance. Clean flowing lines that define shape and form are inherent in his work. "Its' all down to our point of view, seeing what we want to see and not what we expect to see".
Louise Watson
At the heart of Louise's practice is observation of the natural world. Her work is a mixture of hand and machine embroidery. Louise paints and draws on fabric and in sketchbooks, using a variety of different mediums. For this exhibition, Louise has concentrated on one enormous arable field close to her home in Avening.
Emily-Kriste Wilcox
Emily's slabbuilt ceramic vessels hold a painterly expression that can often be attributed to the landscape. This notion of wide open space will form the basis of her collection of vessels, in a subtle reflection to the grounds at Quenington, all of which will continue to create a strong sense of place.
Catherine Zoraida
Colombian-Scottish designer Catherine Zoraida makes her jewellery from ethically sourced materials, using natural objects as her inspiration to create a collection of pieces with a distinctive and sensual edge.
"I like to think of jewellery as miniature sculpture. It's making something that brings a little joy to everyday life"
The Pool House is filled with beautiful things
For any enquiries about the Pool House Gallery, please contact us on this form.