Sneak Peek – The Birds of Superstition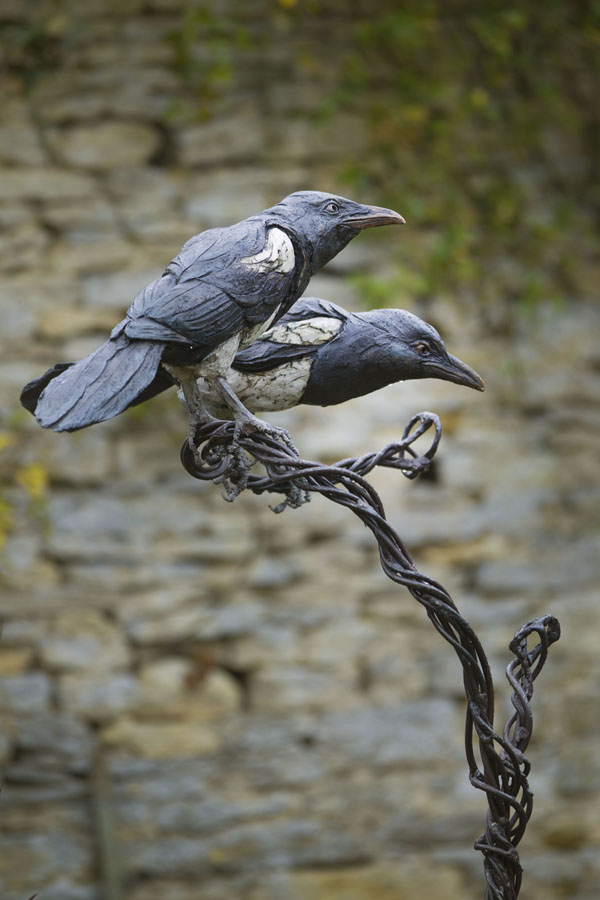 Today's sneak peek is at two sculptures depicting birds – one of two Magpies and another of a Raven. Two birds that are ladened with superstitions both good and bad!
Dave Cooke has decided to go with good luck rather than bad by sculpting two magpies in a piece aptly named 'Two for Joy'. 
One for sorrow,
Two for joy,
Three for a girl,
Four for a boy,
Five for silver,
Six for gold,
Seven for a secret never to be told.
The Magpie is known for its intelligence and its love of shiny objects, and maybe even the fact that everyone finds them a little evil looking. Though regardless they are striking birds with their black and white colouring and therefore make for an equally striking sculpture. These two, though 'for joy', seem devilishly perched on their steel stand as if waiting to cause mischief. I love their beady eyes that really emphasis there mischievous, arrogant personalities. David has been a professional wildlife artist since graduating in 1992 from Leeds Metropolitan University with a degree in 3D Design. Since then he has tackled many animal subjects – such as crabs, dinosaurs and gorillas, but has tended to specialize in reptiles and birds. David is a selected member of Anglian Potters, and gives demonstrations for them and exhibits at their shows. In 2012 David displayed his creations at the Harrogate Spring Flower Show, The Wildlife Art Gallery, Lavenham, The Chelsea Flower Show, and The SWLA show at the Mall Gallery, London. You'll have to come see this sculpture for yourself and decide what personality these two hold for you!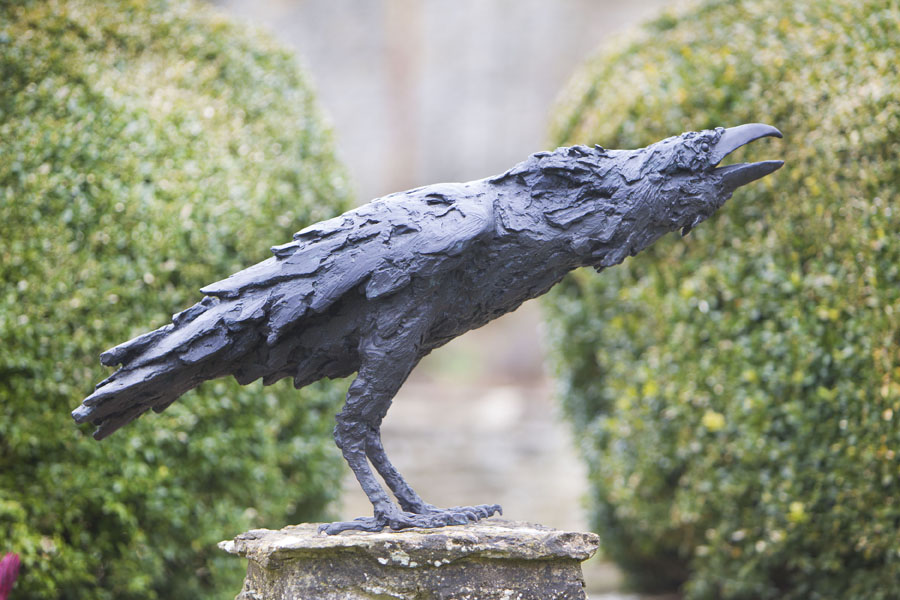 Now the turn of the Raven. Dido Crosby is showing two pieces at the show 'Raven II' and 'Raven III', both beautiful bronze pieces. After taking a zoology degree at Oxford, Dido studied for a second BA in Sculpture at Central St Martin's in London.  Her work centres around animals as her subject matter. Exhibiting and taking commissions, she has life-sized cast iron pieces at Acton Court, a large bronze horse at Dunderave Castle in Scotland and a white gazelle in Colletta, Liguria, Italy. Firstly I love that Dido did a degree in zoology! Until I was about 14 years old all I wanted to be was a zoologist, that and my slight deviation to wanting to be a marine biologist. I love that she started off with a science and merged it into art, which is something I hope to one day accomplish by combining  my love for Maths and my love for Art (at the moment I'm trying to combine them by studying animation!) I have always been a lover of animals, and I love seeing how people depict them in sculpture. This piece to me is brilliant because just looking at it you can almost hear the Raven's croaky call. I love how ruffled and scruffy the feathers look, and how well such a delicate subject with weightless feathers can be created using bronze without looking heavy and clumsy! Raven's are considered everything from messengers of god, to King Arthur living on in the form of one, and have a lot of mythology behind them.
I do wonder what the birds of the garden make of these sculptures … !