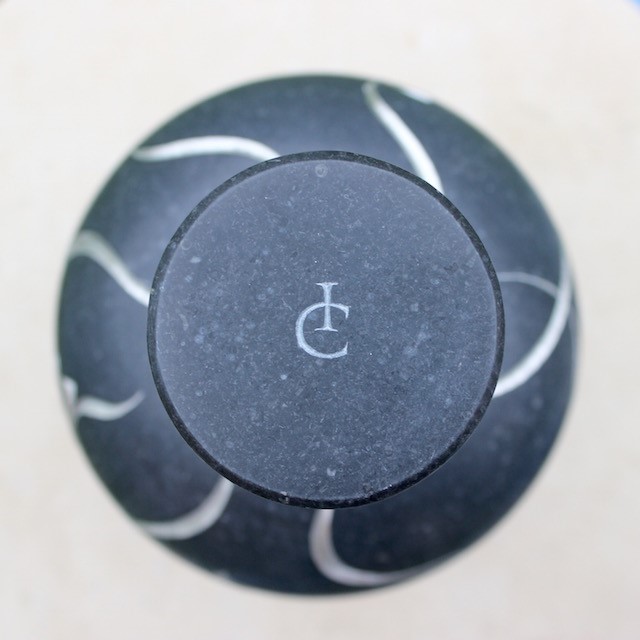 Iain Cotton is a letter carver. His hand carved 'Message in a Bottle' was made for an exhibition at the Chelsea Physic Garden in 2018 called Elixir of Letters, exploring the connections between plants and drinks. The show was a collaborative venture between CPG and the Lettering Arts Trust. Message in a Bottle is made from Irish blue limestone and palladium leaf and measures 60 x 20 x 20 cm. We are thrilled that it will be coming to Fresh Air Sculpture 2019.
Iain specialises in hand carved lettering, stone carving, and sculpture. He works from a solar-powered studio on the beautiful Radford Mill organic farm near Bath in the South West of England. Iain makes headstones, cremation tablets, house signs, gifts and garden sculptures to commission. He works in British and Irish limestones, sandstones and slates and has made work for the National Trust, Bath Abbey, and Memorials by Artists and has work in the Art and Memory Collection at Arnos Vale Cemetery in Bristol, and in private collections in America, Japan, and the UK.
Iain says..
"My primary purpose is to design and make things well. I like to combine carving and lettering when appropriate and my masonry experience gives me great versatility in designing and shaping stones. I like things to look simple even when they're complicated, and I like things to have a "felt" quality. Strength, sensitivity, energy, and poise are qualities I enjoy".
Here's a short film about Iain and his practice..
Iain Cotton from Jo Dolby on Vimeo.