Bridget Bailey – Investigative Making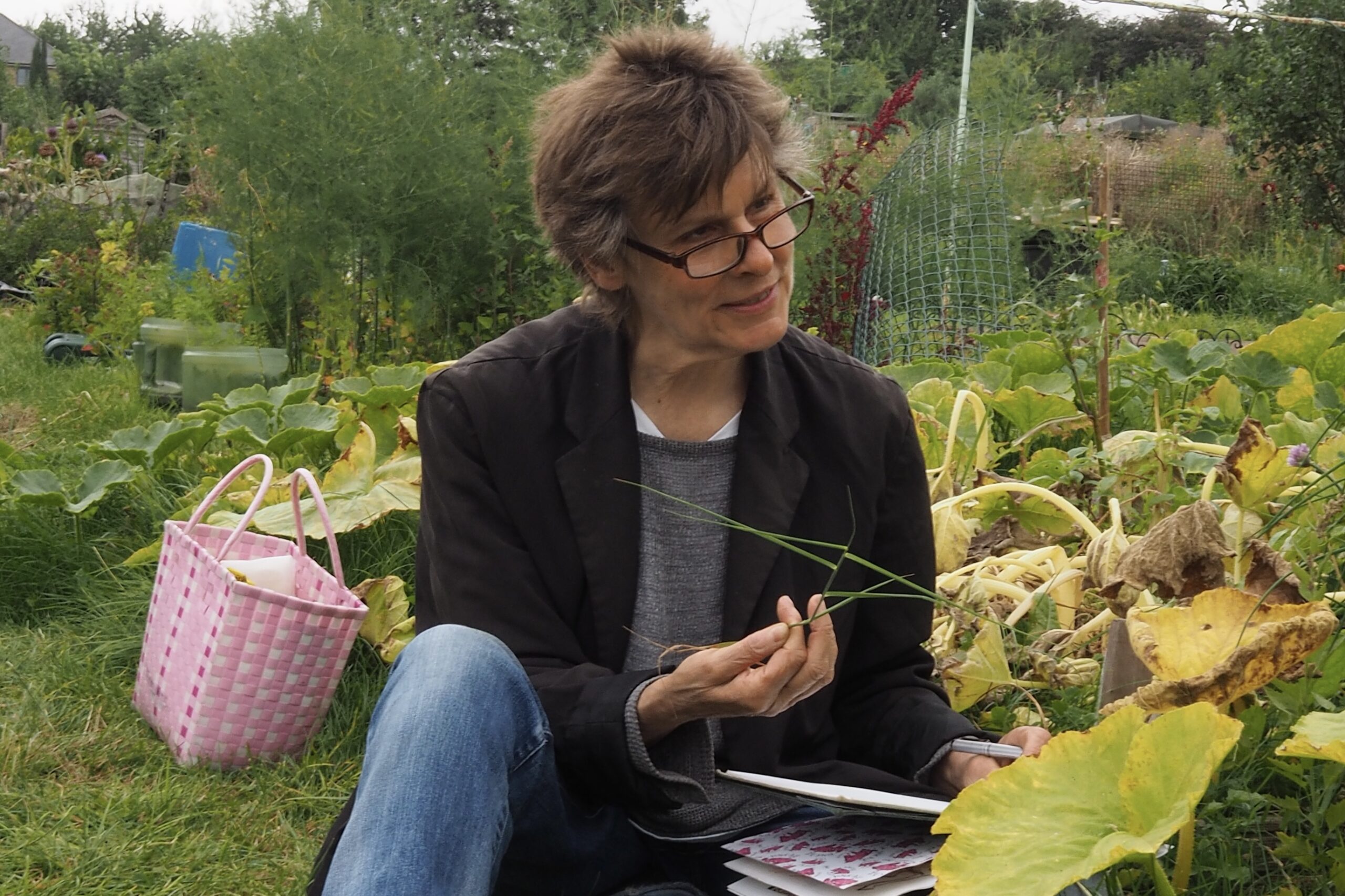 Textile artist, Bridget Bailey makes artworks and sculptures that combine intricate making with the down-to-earth approach to life and death of an allotment gardener. They investigate aspects of nature from the growth-rhythm in a tangle of grass to the particular posture of a dead butterfly's legs.
Finding a 'making language' to describe alive and growing, or dead and still, needs very different approaches. Showing variety in thinking as well as materials brings a level of diversity appropriate to her subject matter.
Bridget describes her making process as 'interpreting' nature – relating its qualities through translating it into other materials. These materials and techniques come from her textile and millinery background, taking on a new level of refinement in their context as artworks.
Here Bridget describes her inspiration and her process.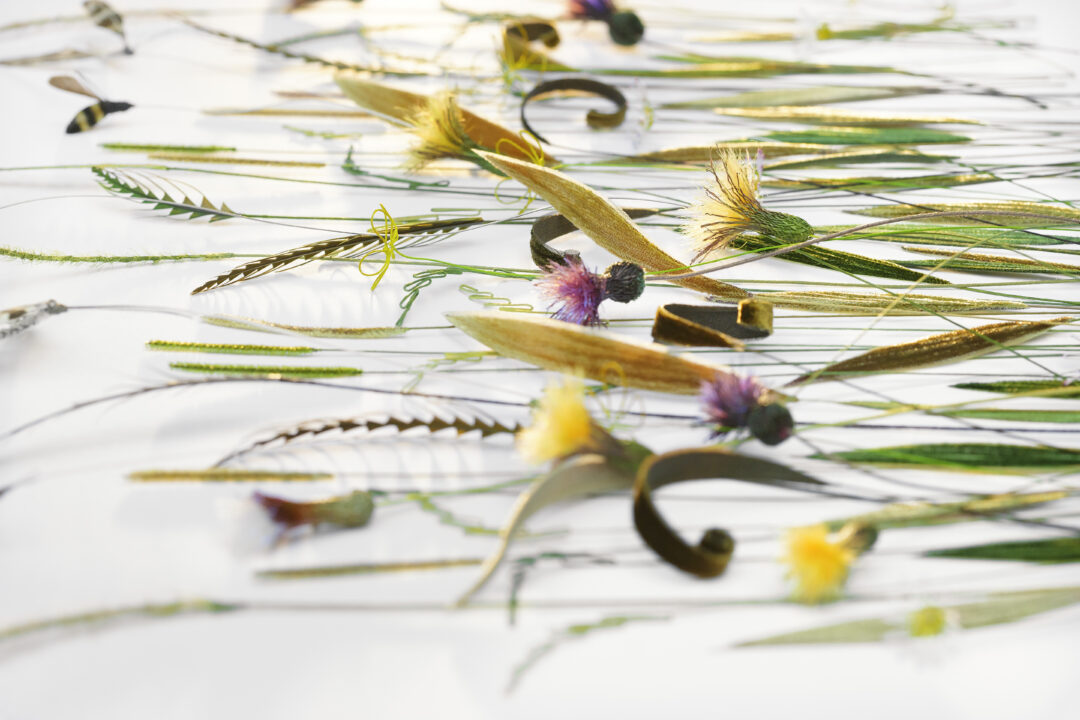 "When people ask me what I do I find that a hard question to answer. I think it sits in the middle of the gardening, the observations, the ways of making and the special things materials do. I make work that reflects my fascination with flora and fauna but really that's my way of investigating.
Real plants look amazing after so much scrutiny. I see so much more detail in them and many qualities that drawing or making couldn't possible capture. In some ways these observations and the ability to see in more depth and detail are the un-showable best bit!
It's impossible of course, but that balance of plants and creatures in a tussock of grass is what I'm hoping to describe in my work. Types of grass with their different seed heads, all the insects that pollinate, and eat things, birds coming and going. My allotment is always a bit wild at the edges compared to a garden, and allotment gardening is so much about how nature works as well as how it looks.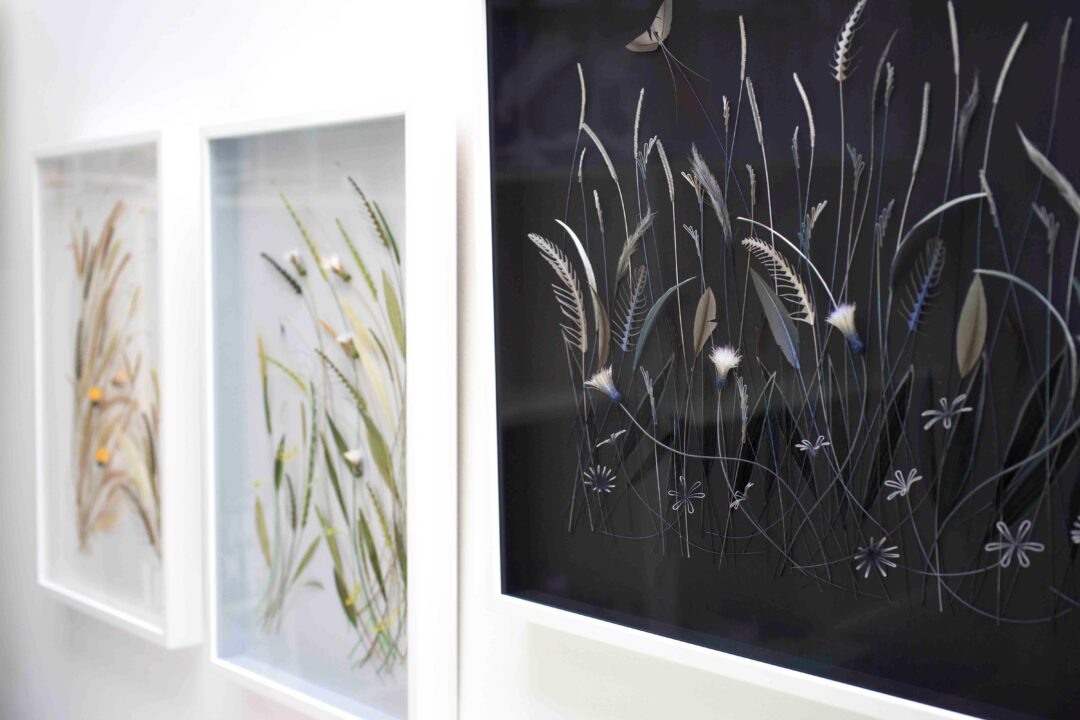 The artworks might be Flora and fauna as freestanding sculptures, or framed collections that show a growth pattern and rhythm. They suggest the passing of time in different ways, from an insect buzzing off before I saw it properly, to how plants change over a season. These are illusive things to capture but I love the idea of making a hint of something that's hardly there and combining that with a representation of all the types of grass that appear over the summer.
I'll prepare a mass of individual flora and fauna and then start the arranging process. It's curated randomness and it's really hard to get that right! I was a hat maker for many years and looking for the lightness and flow of millinery is still there in my arranging. Constructing the framed pieces really does take patience discipline. Each stem is stitched into position through card in two or three places. That sort of invisible sewing is a millinery thing too!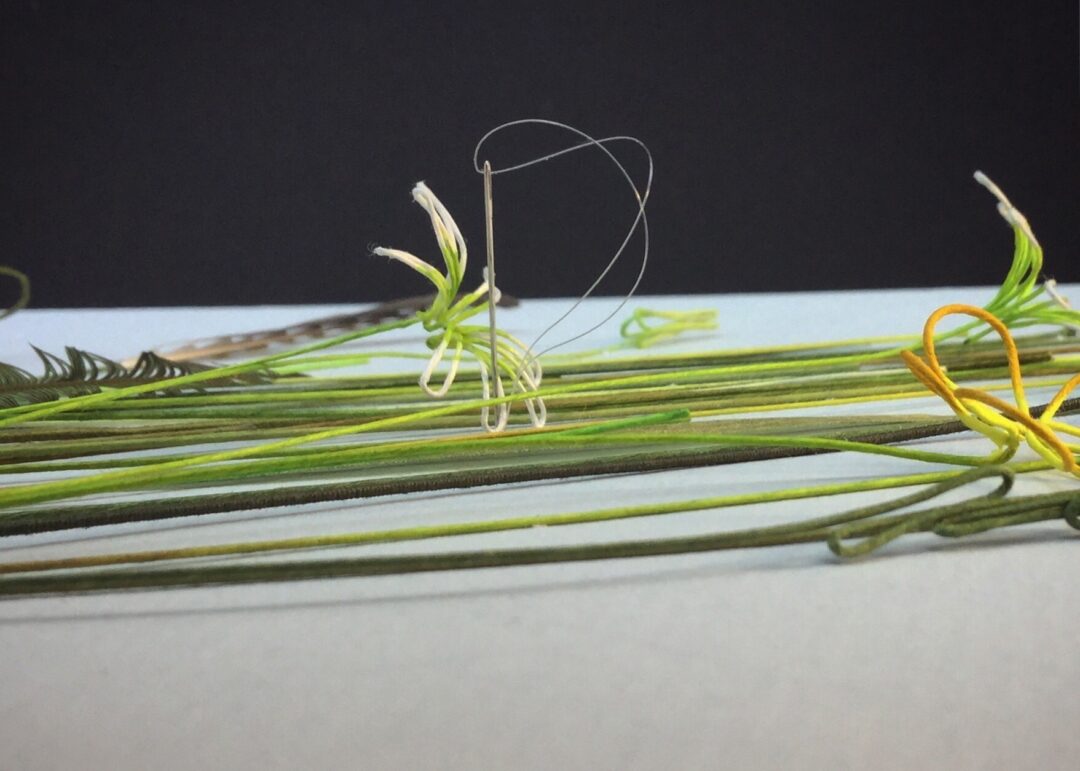 A mix of materials bring their own sort of bio diversity and that feels appropriate for the subject matter. 3d drawing with wire, embossed velvet, suggesting the nap on a blade of grass or a furry bee bottom. The delicate fronds of a feather say some of the things I love about grass seed heads. I collect the feathers. Some are from London parakeets and they're wonderful grass colours already.
I use a whole alphabet of techniques – I studied textiles in the very beginning so dyeing and painting silk come from that while embossing velvet was a hat making thing for leaves and flowers. I have a wonderful Edwardian book on fly tying and some of the binding with thread and hackling feathers is inspiration for suggesting delicate grasses and tiny midges and hoverflies. I've recently started drawing the plants on the allotment. Drawing is a wonderfully intense form of observation and compliments the 3d making, which is a good way to investigate construction."
We will be showing Bridget's artworks in The Pool House Gallery during Fresh Air Sculpture 2022.